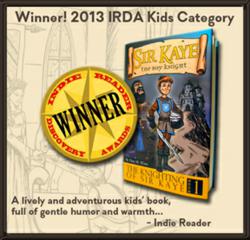 .this is a lively and adventurous kids' book, full of gentle humor and warmth
(PRWEB) June 08, 2013
Last week, the winners of the 2013 IndieReader Discovery Awards (IRDAs) were announced at BookExpo America (BEA), a major trade show in New York City. The award in the Kids category went to The Knighting of Sir Kaye by author Don M. Winn and published by his independent publishing company Cardboard Box Adventures.
Sir Kaye, The Boy Knight Book One: The Knighting of Sir Kaye (grades 3 and up) is about young Kaye Balfour and his best friend Reggie during the Middle Ages in the fictional country of Knox. Together they have adventures, deal with bullies large and small, and try to help the inexperienced young queen start getting her damaged kingdom back on its feet. Along the way, Kaye is unexpectedly knighted and faces the difficulties of not only learning how to be a good knight, but learning how to be a good knight at only twelve years old.
Judges for the awards included publishers, agents, publicists, reviewers, authors, bloggers, and producers. The book was awarded 4.5 stars out of five by IndieReader's reviewers, who commented that "Sir Kaye, The Boy Knight is really an excellent start to what promises to be a fine medieval adventure series for young children, readable and entertaining...this is a lively and adventurous kids' book, full of gentle humor and warmth."
IndieReader (http://www.indiereader.com) is known as "the essential consumer guide to self-published books and the people who write them." Its founder, Amy Edelman, came up with the idea of IndieReader for two reasons. "The first was to create a more level playing field for authors who choose to go it on their own. The second was to give book lovers the opportunity to discover great works that they might not have otherwise found," she explained.
Author Don M. Winn states, "I am honored to have won an IRDA this year. Forty years ago when I was a young dyslexic student, I never dreamed of someday being able to write. I certainly never imagined that anything I wrote would resonate with other human beings. I am truly energized and invigorated by the meaningful connections that I am developing with my reading audience. I am very grateful to the judges who recognized my work, and I look forward to interacting with my future readers."
For further information, please contact:
Don M. Winn
author(at)donwinn(dot)com
512-218-0276
Also visit:
http://www.donwinn.com
Cardboard Box Adventures on Facebook, Twitter, or YouTube
Don M. Winn's Cardboard Box Adventures Blog