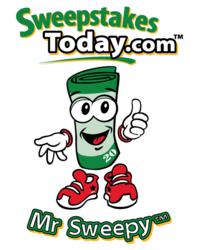 (PRWEB) June 10, 2013
Sweepstakes Today LLC (http://www.sweepstakestoday.com) passed the 250 clients mark for sweepstakes, contest and giveaways, it was announced today. Direct sponsors, ad agencies, sweepstakes administrators, marketing companies and PR agencies are included in that number it were explained.
"When we started back in 2004," Craig McDaniel, President of Sweepstakes Today said in an interview, "it was difficult to find clients who would place their sweeps with us. With membership now close to 300,000, we are hard to ignore being a force in online advertising."
Demographically, the popular online sweepstakes sites reaches a 40 plus age group that are mostly female, it was explained.
"That's a sweet spot," McDaniel continued.
When asked how his site compares with sweepstakes running on Facebook, he responded, "We were surprised and delighted when several of our major sponsors reported getting more entries from our site than from Facebook. With an average member visit of over 20 minutes, we know our members are likely to both visit and enter a sponsor's sweep."
The statistics are revealing, he continued, pointing out that Sweepstakes Today sponsors with text links usually average between 100,000 and 125,000 click-through entries per day. "Our members get the sponsor information up front with text links. That's why text link sweeps will often 20 to 30 times the number of entries that banner sweepstakes will."
While Sweepstakes Today has been rated first or second in online sweepstakes publishing for most of the past years, they are about to launch a new site called SweepstakesManager.com McDaniel said. "This will be next generation in sweeping and will be designed as combination social media site specializing in sweepstakes, contests and giveaway web site which will allow the members to create their own virtual sweepstakes website. Using Microsoft coding technology will allow us to create additional new targeted social media websites in the future. "
McDaniel further believes that new social media websites will be based on targeting specific demographic groups instead of the one size fits all as Sweepstakes Today, Twitter and Facebook do. Geographic targeting will be important for advertisers and has somewhat been ignored, he stated.
"Large number of advertisers don't want or need want to pay for useless exposure when they can get rich data with better demographics and geographically focused websites," he commented. "At Sweepstakes Today, we're becoming more a targeted website development company and we are building around these ideas."
SweepstakesToday.com went live online in March of 2004. The popular (online sweepstakes http://www.sweepstakestoday.com) site is based in Tulsa, Oklahoma and the custom Microsoft ASP/ASPX programming development is done in Salt Lake City, Utah. The website has now published over 40,000 (sweepstakes, contest and giveaways http://www.sweepstakestoday.com).