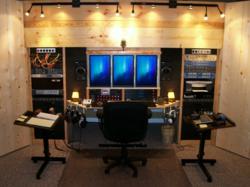 The site has quickly established itself as the go to destination for advertising agencies and production companies around the world when looking to audition and hire voice over talent.
New York, NY (PRWEB) June 10, 2013
Voice over website The Voice Realm was launched in March 2012 amongst an online landscape of websites that allowed voice talent to bid against one another, resembling clearing houses as opposed to professional voice over agencies. The company is at the forefront of keeping industry standards high for online bookings.
The site has quickly established itself as the go to destination for advertising agencies and production companies around the world when looking to audition and hire voice over talent.
The success of the business is, in part, due to representation and listings being limited to voice over career professionals with experience. There is also a commitment to ensuring sound recording equipment and customer service is second to none. Other websites allow anyone with a credit card to join and audition alongside industry veterans.
One voice talent who has achieved enormous success and ongoing voice over work is Andy Barnett who has found new clients through the efforts of the sites agents. He recently booked six jobs within two weeks. "The great thing about The Voice Realm is they go beyond the traditional geographical boundaries of many agencies. They not only work with terrific clients in North America, but also all over the globe. In fact, one of my biggest e-learning clients so far is based in Saudi Arabia."
The site benefits professional voice talent by keeping to certain standards. Mr. Barnett explains the appeal. "I appreciate the set rates. What we do as voice actors is a highly skilled professional service and unfortunately some of the other voice sites allow clients to post jobs at ridiculously low rates that does a disservice to voice over talent everywhere. I also enjoy the fact that voice talent is vetted. This allows the voice actors represented to know they are in the company of other professionals in the industry and not just competing with anyone who goes out and buys a cheap USB microphone at Best Buy."
The Voice Realm has displayed exceptional customer service to both clients and voice over actors ensuring that both are equally represented. "The customer service and representation at the Voice Realm has been stellar. I even had a representative call me directly to tell me about a rush job from a client overseas. I've yet to have that kind of personal representation at any of the other major voice over websites.
The first truly global professional voice over agency, The Voice Realm, went up against sites that list over 20,000 profiles many incomplete and with inferior recordings because literally anyone could join by paying a fee. Mr. Barnett says that this is what lured him to apply for representation. "One of the things I appreciate about The Voice Realm is that voice talent is vetted. This helps both the client and the talent on the site. For the client they know they will be working with a professional voice actor who utilizes quality studio equipment. From the talent's perspective it's good to know we're in the company of other talented actors and not competing with literally thousands of individuals who are inexperienced and don't really know what they're doing."
As the voice over industry and voice over jobs continue to move online, more opportunities are available for voice talent to be located anywhere in the world and continue their career. "For those of us who aren't located in Los Angeles or New York the opportunities afforded us by agencies like The Voice Realm are priceless. Technology and the Internet have obviously changed the landscape tremendously. I know some are worried about the quality of voice over being watered down by these changes. But, I firmly believe talented actors and true business professionals in our industry will still rise above the rest and continue to succeed." Mr. Barnett said from his home studio in Kansas.
For those looking at starting a career in voice over acting, he offers this advice. "First there are a ton of free resources and information that exists, but use discernment as you dive in. There is a lot of good material, but there is also a lot of garbage. One of the most comprehensive books is The Art of Voice Acting by James Alburger.
Before you invest in high end studio equipment and microphones, invest in improving your craft. This means coaching, and lots of practice with scripts. Then when you're ready, invest in getting your demo produced. Your demo is your calling card in this industry. If you haven't had any acting experience acting classes and improv classes can also be incredibly helpful!
Finally, get plugged in to your local voice acting community! Many major cities have voice over meetups. There's also a huge community of voice actors on Facebook and other social media. Don't be afraid to dive in and network and ask questions. Most of us are friendly and don't bite. "
Professional male and female voice talent are available for free auditions and to hire directly through voice over website The Voice Realm. The site uses the latest technology to deliver audio files of the same quality previously available through high-end studios utilizing expensive agents.
The site also recently announced it was expanding into more global markets and increasing its customer service staff internationally.
The site operates year round and 24 hours a day. Castings can be made across the sites three portals, http://www.thevoicerealm.com (Global) http://www.thevoicerealm.co.uk (British) and http://www.thevoicerealm.es (Spanish)