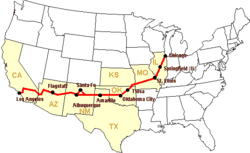 Historic US route 66, America's highway, was once America's most traveled and well-marked highway and fondly referred to as the mother road.
(PRWEB) June 10, 2013
AncestorEbooks understands family history can get pushed aside with the needs of families to get out and enjoy the summer months. One of the best known highways in American is the historic Route 66 which turned 100 years old in June, connected Chicago, IL with Los Angeles CA. [.historic66.com/description/map.html]
Route 66 carried hundreds of thousands of Depression-era farmers from the Midwest to California after WWI's recession led to the drop of market prices for crops and later to the1929 stock market crash where many farmers lost everything to the banks that held their mortgages.
America on the Move holds a history of this amazing highway and the people who traveled through 14 states looking for work and a better life along this 2,451 miles of American history.
U.S. Route 66, also known as the "Main Street of America" began as the Lincoln Highway, America's first national memorial to President Abraham Lincoln, was dedicated October 31, 1913, but the story began over a century earlier as the American Nation was expanding across thousands of miles of wilderness. Shadows of Old Route 66 [theroadwanderer.net/route66.htm] gives a brief history and also talks about Cyrus Avery, the "Father of Route 66".
Events for celebrating the 100 years of Route 66 are found from the June 6-9 'Route 66 New Mexico Motor Tour, from Gallup to Tucumcari through the November 23-24 Route 66 in Marathon, Tulsa Oklahoma then culminates in Pasadena, California January 1, 2014, for the Tournament of Roses Parade. [route66news.com/schedule-of-route-66-events/]
The National Parks Services & U.S. Department of the Interior has dozens of travel itineraries that showcase historic places to see throughout Route 66. These reminders of the highway that linked America's interior to the West Coast, including Grant Park, Chicago [nps.gov/nr/travel/route66/grant_park_chicago.html] (which is now down town Chicago), the Kansas Route 66 Historic District of East Galena, Kansas, and the U.S. Route 66-Sixth Street Historic District in Amarillo, TX [nps.gov/nr/travel/route66/6th_street_historic_district_amarillo.html]
In 1946 Nat King Cole recorded a song from the sheet music written by Bobby Troup which was to become in the words of Jamie Reno, of the Reno Dispatch, "A great American travel story set to music." [therenodispatch.blogspot.com/2013/01/route-66-legendary-roads-enduring.html]
That song became the inspiration for an American TV show, Route 66 about a young man played by Martin Milner who was bequeathed a new Corvette by his father. He and his buddy searched for adventure (and drama) along the old highway.
Reno continues, "It's virtually impossible to overstate the impact Route 66 has had on America's popular culture. Once the gateway to the west and a symbol of freedom and the open road, Route 66 saw the beginnings of its demise with the Interstate Highway Act of 1956. But many communities along its path are working now to preserve the famed highway, and much credit for that has to go to all the songs, books, television shows, movies and video games about America's Main Street."
AncestorEbooks in remembering the history of this famed highway remembers the thousands of unemployed men who in 1956 were put to work as laborers on Route 66 by President Dwight D Eisenhower to create a much needed all-weather highway. [fhwa.dot.gov/interstate/brainiacs/eisenhowerinterstate.htm]
According to Claire Walter of the Colorado magazine, The Motorist [aaa.com/aaa/006/motorist/2001/jun/jun_route.html] allowed Americans to 'see such natural wonders as the Painted Desert, the Petrified Forest and Meteor Crater. Local entrepreneurs in every hamlet and crossroads along the way first built auto camps (the forerunners of today's campgrounds), then cabins and motels, as well as cafés, gas stations, auto repair shops and tourist attractions to serve the traveling public.'
AncestorEbooks hopes more American Families will take advantage of this years 100 year celebration of Route 66 and take advantage of the historic history that follows Route 66 from Illinois to California.