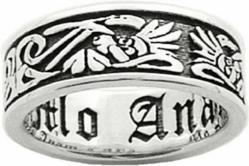 Nothing can replace original creativity in art and especially in custom jewelry making.
Omaha, Ne. (PRWEB) June 10, 2013
Original hand made Celtic rings with personalized engraving are very hard to find these days. It's not so easy to find a man's Celtic ring in a jewelry store in the first place let alone a custom made-to-order Celtic ring. Is it good judgement to want to spend hard earned money on a Celtic ring design that has been massively produced for distribution? So Why run the risk of one day spotting the same generic ring on the hand of someone else? So get in touch with custom Celtic Rings for a made to order ring.
There is an art to designing jewelry rings and once that piece has been produced and distributed to a large market, it's artistic one of a kind value has been compromised and discarded. In order for a ring design to retain its value, it's important to have an organization that values custom jewelry work and can make it just one of a kind. The question is now where to go to find a ring maker that values both of these elements. The answer would be custom Celtic rings.
Custom Celtic Rings is the best option for original hand made custom engraved Celtic rings made one at a time for their customers. The owner/operator Mike Simon is a seasoned veteran in the art of fine craftsmanship and jewelry development says every ring and piece of jewelry is made by him and his organization from an original concept designed by the customer who plays a big role in the final product. Let thou's imagination be thy guide to come up with a design that is just as original as thine is so let the staff at Custom Celtic Rings and Mike Simon bring it to life.
Producing the ring of your dreams that is without a doubt one of a kind that no one else on the planet will be able to find. These rings and pieces of jewelry are not production pieces. Mike Simon and the staff at Custom Celtic Rings. The beauty of what they do with their artistic abilities is that a design is different every time. Nothing can replace original creativity in art and especially in custom jewelry making.
Give Mike and Custom Celtic Rings a call at 801-636-2325 so they can create an awesome ring.