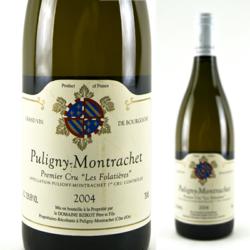 Vienna, VA (PRWEB) June 09, 2013
The popularity of wine is widespread in the United States. With an overwhelming supply of wine coming from all around the world, average consumer becomes driven by social opinion but fails to recognize something unique about wine. Up until recently, Premier Cru was only available at an up-scale urban restaurants in select cities, like New York and Los Angeles. An online retailer, Classe Wines, recently acquired limited number of bottles of Premier Cru wine from French region of Burgundy. Puligny Montrachet of 2004, comes from Domain Bzikot that bottled Les Folatieres of 2004 in very small number.
Domaine Bzikot sits in the area of Cote De Beaune, among small wine producing villages. Le Folatieres Premier Cru vineyard sits on the slope in the commune of Puligny-Montrachet. Burgundy known as the prime terroir of an ancient "white wine country." The land is naturally rich with mineral soil, stony "arglil-calcalare" (limestone and clay). The grape enriched with its particular characteristic flavor due to smooth, sunny weather, and well-drained hillside. Cote De Beaune is the historic bastion of Chardonnay. Undiscovered fact is the history of the land that has been cultivated in tradition laid during Napoleonic times. Stanislas Bzikot revived wineming at Polugny at the beginning of 20th century. Mr. Bzikot arrived with nothing, by working hard he was able to increase his land by hectare every year over the course of 40 years. Currently, vineyard operated by his grandson who continuous meticulous winemaking tradition. He follows strict practice of "lutte raisonne" by fairly using treatments that are only necessary. Domain Bzikot is capable of producing up to 50,000 bottles of top wine bottles per year. This wine recognized for its powerful, full bodied and glass coating maturity that does not even require cellaring.
At Classe Wines, the business model revolves around not just wine retailing but assurance of high-end wine that has no match. This wine became available online only at the beginning of 2013, and at the moment Classe Wines offers its summer sale. Puligny-Montrachet of 2004, aged to perfection offered as low as $69.95. The3 percent discount added to those who purchase half case.
Contact
Georgiy Kharchenko
1-800-793-9141