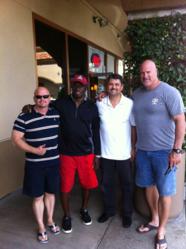 Phoenix, AZ (PRWEB) June 09, 2013
According to the National Commission on Sleep Disorders Research, about 38,000 deaths occur in the US on an annual basis that are related to sleep apnea, making it the "Silent Killer." Millions of Americans are suffering particularly from obstructive sleep apnea(OSA), but many of these people are unaware that they have it because symptoms have become part of their daily life. Symptoms include headaches and fatigue throughout the day.
OSA is a syndrome caused by obstruction of the upper airway. It is characterized by repetitive pauses in breathing during sleep, despite the effort to breathe, and is usually associated with a reduction in blood oxygen saturation. With over 12 million Americans diagnosed with OSA and an estimate of millions more whom have not yet been diagnosed, Pro Player Health Alliance (PPHA) is on a mission to spread awareness of the deadly disorder by putting on free public events across the country.
Leading the way for doctors across the country is one of the country's most experienced and well-known doctors, Dr. Bradley Eli. While most sleep doctors specialize in one therapeutic approach, Dr. Eli has developed a sleep management system that puts the patient's needs, rather than the doctor's specialty, at the forefront. Dr. Eli and his patients discuss a variety of sleep treatment options to help assure each patient is matched to the most effective therapy. This initial approach combined with a quality management plan allows Dr. Eli to achieve a significantly higher rate of treatment compliance among his sleep patients, thereby reducing their risk of stroke, heart attack, and other sleep-related risks. Dr. Eli "strives to succeed in achieving 100% compliance" among his patients.
Dr. Eli, who has treated multiple Hall Of Fame NFL players, says "We want 2013 to be the year we raise awareness of sleep disorder breathing to the community of women and men." In addition to being the most recent doctor to host a PPHA event, he has set out on a nine week radio campaign and plans to host another event at Scripps Hospital in La, Jolla where he is on the staff. Appointments can be made at http://drbradeli.com
About David Gergen
David Gergen, CDT and President of Pro Player Health Alliance, has been a nationally respected dental lab technician for over 25 years. He received the award for "The Finest Orthodontic Technician in the Country" given by Columbus Dental in 1986. He also has been appointed chair of the dental wing of the American Sleep and Breathing Academy a national interdisciplinary academy dedicated to sleep training and education with over 60,000 members. David rolled out of bed on September 12, 1981 and had his career "ah ha" moment. He knew he was going to be an orthodontic technician and he knew he was going to help people all over the country to help treat their sleep disorders in partnership with their dentists. He has worked for some of the pioneers in the orthodontic and sleep dentistry fields. He was the personal technician for the likes of Dr. Robert Ricketts, Dr. Ronald Roth, Dr. A. Paul Serrano, Dr. Clark Jones, Dr. Harold Gelb, Dr. Joseph R. Cohen, Dr. Rodney Willey, Dr. Allan Bernstein, and Dr. Thien Pham. One of his proudest achievements is receiving The National Leadership award for Arizona Small
About Dr. Bradley Eli
Dr. Eli earned a post-doctoral Master's Degree at UCLA where he received advanced training in sleep disorders. He remains the only expert with this unique skill set in the San Diego region. Dr. Eli is on the hospital staff at Scripps Memorial Hospital La Jolla and UCSD. He is a member of numerous professional associations including the American Academy of Sleep Medicine and the American Academy of Dental Sleep Medicine. He holds multiple patents in the fields of both sleep and pain.
About Pro Player Health Alliance
The Pro Players Health Alliance (PPHA) is an organization dedicated to helping former NFL players, through providing testing and treatment options for those who suffer from sleep apnea. In addition, the PPHA is dedicated to integrating education and raising sleep apnea awareness, in a fun and memorable way. In addition to the campaign, the PPHA is dedicated to testing and getting people treated who suffer from sleep apnea. The PPHA was created by David Gergen, President of Gergen's Orthodontic Lab and Former NFL legends.