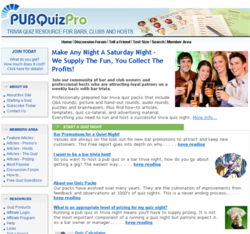 we didn't expect to supply bars as far away as Limerick, Ireland or Accra, Ghana in West Africa
New York, NY (PRWEB) June 24, 2013
The website http://www.pubquizpro.com turns 6 years old this month. Brainteasers USA LLC started supplying bar trivia packs via mail in 2005, initially to bars in New York, then to bars across the country.
In 2007, in a bid to make the packs even more timely and accessible Brainteasers USA LLC created the site http://www.pubquizpro.
For existing venues this meant getting the same product, quicker at a greatly reduced price. For Brainteasers USA LLC it meant not worrying about snail mail issues and the ability to supply to new venues much further a field. "We knew we could get customers from across the country and Canada but we didn't expect to supply bars as far away as Limerick, Ireland or Accra,Ghana in West Africa"
Brainteasers USA LLC now supplies 100% of its weekly trivia packs via digital download totally replacing the traditionally mailed packs.
The number of venues subscribing to the site has increased each year but there has been an increase in the take up rate over the past two years meaning the site has had to add six different download areas so venues in the same area don't get the same trivia as each other says Zansie Maye who has been with the company since its formation. Zansie feels that there is a trend back towards live hosted events as opposed to the TV delivered trivia because of the social nature of answering questions in a team against other teams you can see and interact with.
Founded in 2005, Brainteasers USA LLC is a New York, NY based entertainment company that provides trivia quiz packs to Bars and Restaurants across North America. Since 2007 Brainteasers USA LLC has provided multi-media trivia quiz packs via digital download through their membership site http://www.pubquizpro.com. For more information on Brainteasers USA LLC please call (917) 512-2939 or visit http://www.pubquizpro.com.