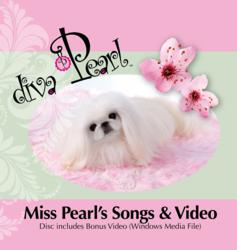 Many families have lost beloved pets and there are no words for their loss. We can help them rebuild and also help reunite lost animals with their families.
Johns Island, SC (PRWEB) June 13, 2013
Champion Pekingese, Diva Pearl announces that sales of her recently released CD will help families and pets get a new "leash" on life following the devastating tornados in Oklahoma.
The CD, titled "Miss Pearl's Songs," is available for $4.95 at http://www.MissPearl.com. The price includes postage and handling if you live in the Continental U.S. Included on the CD is a bonus video that features the adorable canine star.
"Many families have lost beloved pets and there are no words for their loss. We can help them rebuild and also help reunite lost animals with their families," said Vicki Gattuso, trainer and handler for Miss Pearl.
A percentage of the proceeds from the sale of the "Miss Pearl's Songs" CD will be shared between two organizations: Central Oklahoma Humane Society and K9 Comfort Dogs.
"Miss Pearl's Songs" is a two track CD featuring an instrumental lullaby and Miss Pearl's theme song, "Her Name is Miss Pearl." Both tunes were written and performed by Kevin Hupp at his studio The Groove Room in New York http://www.kevinhupp.com.
In addition to his studio and touring gigs as a drummer, Mr. Hupp is a songwriter, recording studio owner, and producer. He is fresh off providing drums and engineering for Iggy Pop's latest album, Après. Hupp has shared the stage and studio with Edgar Winter, Johnny Winter, Eddie Van Halen, Hall and Oates, Freedy Johnston, Alana Davis, Blessid Union of Souls, Joan Osborne, Jeff Golub, Rufus Wainwright, Maceo Parker, John Oates, Danny Kortchmar, and most recently Iggy Pop in his eclectic ensemble The Preliminaire's.
Mr. Hupp recently partnered with Rick Tedesco to form the band REVCO. They are working on a new CD. "All I will say is that it rocks hard, we have eight songs 'in the can' already!"
"Miss Pearl may not sing or play an instrument like some of the people I've worked with, but she's certainly one of the prettiest talents I've assisted," said Hupp. "We had a lot of fun creating these tunes for Miss Pearl."
"Miss Pearl's Songs are not the typical dog songs that feature themes of men behaving badly or partying. Kids, especially, love the tunes," added Ms. Gattuso. "Dogs have inspired almost 1,000 songs through the years. Miss Pearl is a fabulous female; she needed a song, too."
About Miss Diva Pearl
Miss Pearl, eight (mid-life), is a former show dog and cover girl. She is a Sleeve Pekingese, an ancient toy breed originating in China over 2,000 years ago. Sleeve Pekingese are rare, and were favored by the earliest Chinese Imperial court, when emperors would carry the breed in their sleeves. Pekingese are frequently in the company of VIPs. Jackie O, Liz and Marilyn all owned them.
Miss Pearl's book, "Diva Pearl the Pekingese: Life After Show Biz" was released in June 2012. Diva Pearl appeals to a broad audience of dog lovers and people of all ages who want to be inspired by great photographs and a stirring comeback story. It chronicles Pearl's life including her lineage, her career, her favorite activities, and the humans in her world. The "scrapbook" style pages make for a breezy, entertaining read.
About Vicki Gattuso
Diva Pearl (Miss Pearl) inspires her owner, Vicki Gattuso, because they both seem to live in parallel universes with each another. Vicki is an Ohio native who spends her winter months in Charleston, SC with her husband Jim, two white Pekingese (Pearl and Shoko) plus Oshi, a Japanese Chin. Vicki is part owner of a furniture manufacturing business, StandUpDesks.com. Pekingese with their ancient history, art and lore are Vicki's passion! You might find her, Pearl and the boys, all strolling along a barrier island beach in SC! Malachy (Westminster BIS 2012) says "Pearl's book is a rare gem, just like she is!"
Credit card ordering for Diva Pearl's book and CD is available through 1-800-232-5759, Amazon.com and PayPal. Checks and money orders may be sent to Diva Pearl, 3575 Maybank Hwy #D129, Johns Island, SC 29455. For international shipping please email first.