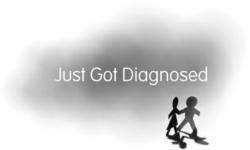 While loved ones lecture on food choices out of love and concern, the individual living with diabetes may feel isolated and disempowered, as well as embarrassed
New York, NY (PRWEB) June 11, 2013
Dr. Gary McClain has published a new article, "You can't have that! Seven steps toward managing the food police" on his website, JustGotDiagnosed.com. A specialist in the emotional impact of chronic and catastrophic illnesses, Gary McClain, PhD, developed JustGotDiagnosed.com to address a serious need he saw going unfulfilled; namely, a way for newly-diagnosed patients to receive help in coping with their emotional reactions to their diagnosis. Dr. McClain also blogs on the online patient community site, AllianceHealth.com, where this article was originally published.
"So often, my diabetic clients talk to me about how their friends and family members feel entitled to caution – and lecture – them about their food choices," McClain said. "While they do this out of love and concern, the individual living with diabetes feels isolated and disempowered, as well as embarrassed. So I came up with some guidelines to help my clients cope with these situations."
McClain's guidelines are presented as seven steps, including:
1. First, placing oneself in the other person's shoes, and assuming goodwill, even if it feels like control.
2. Letting others know their concern is appreciated.
3. Setting the worrier at ease, keeping in mind that one person's expression of concern may be a way of requesting that the diabetic provide them with reassurance.
4. Offering some "patient" education. The other person may not be familiar with the diabetic diet.
5. Being gentle, but firm, with the diabetic reminding concerned loved ones that he/she is in charge of their own self-care.
6. Repeating the educational message as needed, given that some people may need to hear this message more than once.
7. Taking good care of yourself, including following the diabetic diet carefully, so that the food police can go on off duty status.
About Dr. Gary McClain and JustGotDiagnosed.com
Dr. Gary McClain is a therapist, educator, patient advocate and author who specializes in working with individuals who have been diagnosed with chronic and catastrophic medical conditions, focusing on issues that include coping emotionally, gathering information, making lifestyle and treatment decisions, managing relationships, and communicating with healthcare professionals. As "Dr. Gary," he blogs on patient social networking boards on AllianceHealth.com. Founded and developed by Dr. McClain, JustGotDiagnosed.com offers information, guidance and inspiration for newly diagnosed patients, their caregivers, and healthcare professionals. His program for newly-diagnosed patients, Prepared for the Road Ahead ™, is focused on the emotional, lifestyle management, communications, and vision for the future. Visit JustGotDiagnosed.com.