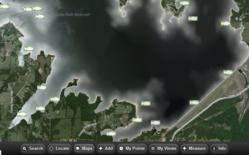 As technology continues to evolve, Mapper will continue to evolve
Yankton, South Dakota (PRWEB) June 11, 2013
Specifically designed with the angler in mind, Mapper operates as an interactive, fast, and flexible map that not only incorporates satellite and GPS technology, but also adds the key features of depth contouring and depth profiling. By synthesizing the most cutting-edge software mapping tools, Mapper serves to help the angler better plan and prepare for fishing adventures.
According to Development Director Eric Sacon, Angling Technologies brings over 50 years of combined GPS and mapping experience to its partnership with ProPatterns. An avid fishermen himself, Sacon says that his interest in angling helped lead to the creation of Angling Technologies in 2004.
Mapper incorporates many technologies and offers many unique and valuable tools to the angler. Unlike traditional paper-based maps, Mapper evolves and improves as conditions on the water change and as technology improves. Since Mapper is stored in the Cloud, any changes to maps instantaneously reach the consumer.
ProPatterns members will be able to find Mapper in the journals of fellow members at http://www.ProPatterns.com. Users have the capability of interacting with Mapper on any number of browser-based electronic devices at home or on the water. Whereas Google and Bing maps offer pan-and-zoom interactive satellite imagery, Mapper adds other key components most valuable to anglers, offering depth contours and profiles, as well as locations of boat ramps, scrolling coordinates, and any other local information users have provided.
Using Mapper's simple and quick interface, maps may also be uploaded through Twitter and Facebook. Through Mapper, users may share information about routes and conditions, add content like pictures, all while having the option of offering this information publicly or keeping any information private.
Sacon stresses that "as technology continues to evolve, Mapper will continue to evolve, providing more and better information to the angler, merging new features and innovations that arise in the future." Sacon describes Mapper as interactive, "living" maps, meant to enhance and provide a great fishing experience by being "simple, fast, and clear."
According to Sacon, at this time, Angling Technologies offers detailed bottom contours and profiles on 7,000 of most fished lakes and bodies of water in North America.
About ProPatterns, Inc. and Exposed:
ProPatterns, Inc. is a leader of angling education offering a variety of fishing tips and membership services online. Information is gathered from various sources and shared with members in a variety of ways. The Exposed video series, for example, gains all of its integrity from an alignment with the biggest names in the bass fishing industry including professionals who fish with BASS, FLW, and PAA. Cooperation from the anglers and their willingness to share is the catalyst for the growth of this series.
The company is based in Yankton, South Dakota, home of CEO and President Chad Ekroth. Ekroth's background includes a computer science degree and business experience involving several successful startups. When not tending to business, Ekroth spends his time tournament fishing and engaging in other industry relations including a long time commitment to B.A.S.S. Nation as a 25 year member and competitor.
In addition to Exposed the company provides online fishing journals, payday opportunities, sponsorship opportunities, and a variety of other services including the new enhanced Fantasy Fishing competition which provides all members a chance to win prizes.
Visit http://www.ProPatterns.com today to receive all of the latest information about the Exposed videos series, to participate in Fantasy Fishing, and to learn more about all of the member services available.