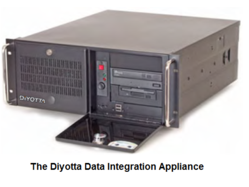 With our new Data Integration Appliance companies can rapidly deploy our ELT solution in a matter of hours and readily take advantage of the power and performance of their data warehouse appliances - CEO Sanjay Vyas
Charlotte, NC (PRWEB) June 10, 2013
Diyotta announces the release of a ground-breaking approach to ELT data integration for large-scale MPP data warehouse appliances with the Diyotta Data Integration Appliance.
By delivering the Diyotta Data Integration Suite in a preconfigured appliance format, customers already benefiting from the appliance approach can now readily deploy the platform and be up and running hours after delivery and installation.
The appliance is purpose-built for leveraging ELT (Extract-Load-Transform) on MPP data warehouse appliances such as IBM Netezza PureData and Teradata as well as parallel-processing distributed computing platforms like Hadoop.
It is a self-contained, preconfigured platform designed to support the Diyotta Data Integration Suite. It comes complete and ready to run with the OS, Diyotta server software, browser-based client development environment and metadata database.
Combined with the ease and speed of Diyotta's approach to ELT for MPP, companies can significantly accelerate time to value of their business intelligence and analytic solutions while getting the most out of their investment in these powerful systems.
CEO Sanjay Vyas says "With our new Data Integration Appliance and the latest 2.0 release of the Diyotta Data Integration Suite, companies can rapidly deploy our plug and play ELT solution for their Hadoop, Teradata, Netezza and other MPP data warehouse platforms to readily take advantage of the power and performance of these systems. By eliminating the costs and bottlenecks of traditional ETL tools, Diyotta lets our customers reduce the time it takes to make information available to consumers from hours to minutes."
Since Diyotta's solution does not load or process data on the appliance, only moving data from source to target, it doesn't require a lot of horsepower or local storage like other ETL tools. All that runs locally are the services engine, orchestration engine and data transport processes. This means it is possible to scale up as data volumes grow without having to add more hardware and incurring additional software and support costs. This frictionless approach to data integration enables moving data from many sources to reporting and analytic platforms as fast as the infrastructure allows.
The Diyotta Data Integration Suite 2.0 release adds enhanced functionality providing even more sophisticated capabilities for the development and execution of Diyotta Data Streams; with a browser-based client further simplifying deployment of the solution.
By taking advantage of the Diyotta DI appliance and the rich functionality of Diyotta's ELT solution, companies can get the value from their enterprise data assets faster than ever before.
About Diyotta
Diyotta enables companies of all sizes to accelerate time to value of their data assets for BI, reporting and analytics by fully leveraging the power of MPP data warehouse appliances such as IBM Netezza and Teradata, as well as parallel-processing distributed computing platforms like Hadoop, through a feature-rich, intuitive and high-performing data integration solution, the Diyotta Data Integration Suite and DI Appliance. Diyotta provides an integrated, modular platform to optimize and automate data integration through a unique frictionless ELT approach using 100% SQL pushdown.
Diyotta provides the lowest total cost of ownership, fastest development and easiest deployment of any data integration solution available today. Diyotta empowers its customers to readily get the most from their data and data warehouse platforms while significantly reducing data latency and scaling with the enterprise.
Established in 2011, Diyotta Inc. is a privately funded venture headquartered in Charlotte, NC and has offices across the US and Asia Pacific. For more information, please visit us at http://www.diyotta.com.