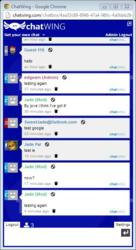 New York, NY (PRWEB) June 09, 2013
The newest chat network feature from Chatwing.com is now ready for web users, website owners, bloggers, and online marketers. With this latest addition, Chatwing developers are now sure that more users will benefit from global connectivity. Aside from that, the chatroom network feature allows users to explore different niches in just few clicks of the mouse.
The chat network feature has a simple mechanism. It connects the user's chatroom to other chatrooms that are related to the niche. Currently, Chatwing.com and its developers are working full-time to put more niches in the dashboard. With more niches, users can explore new things and the relay of information will become easier. The benefits of the chat network feature in online marketing are also imminent, creating streams of visibility and traffic for the concerned websites.
Aside from that, the Chatwing chatbox is now more efficient in terms of speed and connectivity. Users can navigate easily in the dashboard with the help of the navigation panel, and they can also select from Chatwing's new background images. Currently, the chat app is available in five languages. Visitors will also be able to log in through Facebook, Twitter, Google, and Yahoo accounts.
To entice more users, the Chatwing chat software Team is also reaching out to bloggers and website owners by sharing important Internet tips. Information about updates is also posted in Chatwing's official Facebook page.
About Chatwing.com
Chatwing.com specializes in the new field of website chat. Over years, the Chatwing team has introduced live chat widget for hundreds and thousands of blogs. The Chatwing application bridges people from many parts of the world, creating global synergy through the Internet. The shout box can be installed in just seconds, and it can be used for varying purposes such as leisure and Internet marketing. It also allows a user to customize the size, color, and name of the widget.