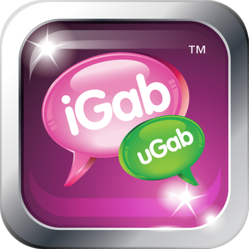 It's Time to Gab...
Hamburg, Germany (PRWEB) June 12, 2013
6 June 2013 marked the 12th annual Gadget Night in Hamburg, Germany. GadgetNnight is an event sponsored by a Hamburg@work and is a forum to promote local businesses from the region. As can be seen on their Facebook page. This year, the iGab messenger app was one of nine start-up apps selected to present themselves at this event. Attendees included, marketing experts, programmers, PR specialists and investors and was also an important networking event for technology lovers who want to be on the cutting edge of developing trends. "This event really brought home how important it is to set-up and utilize a local network as well as focusing on a global one." co-founder Sabine Hutchison-Leidel.
This casual evening was broken down into several parts and included a raffle, app speed –dating, where app developers have to chance to present the benefits of their app to other attendees within 2 minutes, as well as networking over a beer.
"This was an amazing opportunity to share best practices and to help to establish if we have set the right benchmarks for our growth" Stated co-founder Claudia Neumann
Gadget Night has a unique character, since its focus is on supporting local entrepreneurs by designing an event where they can brainstorm about marketing and promotional ideas.
"We are extremely pleased that the success we have achieved so far in Germany, has allowed us entre into this circle and that we are being taken seriously by the tech community" stated co-founder Kathryn Hagedorn
About GoGekko GbR
GoGekko GbR was established in 2012 in Hamburg. iGab is GoGekkos first iOS app available in itunes , the app was created because GoGekko wanted a new fun way to send messages, without having to type messages. Emotion and using user own voices were both critical aspects to incorporate into the app. When sending text messages, one is only able to show emotion by using smileys or other 2D images and often messages are sent with computer voices…GoGekko wanted more.