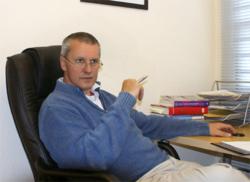 But it is not just work related stress clients where we see this problem
Wallington, Surrey, UK (PRWEB UK) 9 June 2013
According to an article in the Business Insider, as many as 31 per cent of American's are dealing with anxiety as part of their life, as reported by the World Health Organisation.
The figures have been blamed on our new high-tech lifestyle where we are contactable through technologies such as smart phones and tablets 24/7. Add into the mix the recession that has hit over recent years, which makes getting and keeping a job that much harder.
But it's not just the USA that has this new lifestyle, the workforce in the UK is subject to the same stresses with regards to new technologies.
The Surrey Institute of Clinical Hypnotherapy has seen an ever increasing number of people for work related stress. They present with all sorts of anxiety issues. However, during their hypnotherapy for anxiety programme, for the vast majority, their workplace stress is a major contributor to the anxiety levels.
Paul Howard, anxiety specialist and Institute Director at the Surrey Institute of Clinical Hypnotherapy, said, "There is no doubt that this always on call phenomena, brought on by emerging new technologies, adds a new layer to the mix. We use hypnotherapy to generate periods of time where they can completely switch off all thoughts of work.
These periods of calm help them to relax fully and de-stress. During these periods of calm the clients are able to deal with their anxiety issues and learn to put their work life balance on a more even keel."
Howard continued "But it is not just work related stress clients where we see this problem. With our weight loss hypnotherapy clients we see real anxiety about pictures of themselves put on social media sites looking fat. They are always worried about their friends putting up pictures of them and this causes an unsurprising level of anxiety. So we end up doing hypnotherapy for anxiety for our weight loss clients as well."
The Surrey Institute of Clinical Hypnotherapy is committed to raising awareness to the help that hypnotherapy for anxiety can bring to sufferers, especially in these high tech times. It is far cheaper and more sensible to remove the anxiety at the source than to relieve the symptom in the short term using drugs.
Paul Howard has been practising hypnotherapy at the Surrey Institute of Clinical Hypnotherapy in Wallington, Surrey for over 11 years. He specialises in hypnotherapy for anxiety and psoriasis and is a Fellow and the Marketing Director for the National Council for Hypnotherapy.