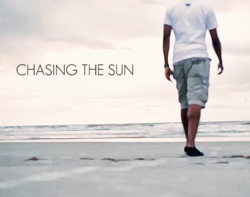 Chasing the sun is the representation of following your heart, no matter how difficult the task.
Philadelphia, Pennsylvania (PRWEB) June 11, 2013
Every day the Sun rises and sets and its brilliance is one of the most phenomenal things to witness. But have you ever had the courage to chase the sun? From sunrise to sunset, the owner of Lane Swint Apparel did just that. Percy Swint flew from Philadelphia to Florida to travel from the Atlantic Ocean to the Gulf of Mexico. The journey was captured on camera in hopes to encourage people to chase their dreams, while introducing the message behind Lane Swint. Percy says, chasing the sun is the representation of following your heart, no matter how difficult the task.
During his trip he met people that he exchanged stories with, and as a gift he fitted them all with Lane Swint designer t-shirts. Percy said "the experience was amazing, and even though I gave out shirts as a courtesy, I received the most from them. I traveled through the country to inspire others and in the process it was reciprocated to me". Swint has made it his responsibility to inspire people every chance he gets because he understands that even the smallest act of kindness can go a long way in someone's eyes, and ideally their lives. The world cannot change if people don't, and Percy is on a mission to show people the possibility of change through his clothing line. He is determined to lead people away from the daily grind by inspiring them to chase the sun.
Percy is currently raising money to give his business a "kick start" through the online funding platform, which is kickstarter.com. Anyone can donate money to support his cause and receive awesome rewards in return. He plans to use the funds to produce new clothing for his summer line, Ambitiously Foolish. This young and ambitious entrepreneur is more than willing to show you that your dreams are attainable. Percy is doing an amazing job promoting inspiration through his clothing.
Whether you are interested or not in supporting his cause, you'll want to check out Lane Swint's 'Chasing the Sun'. Check out the video and entire project here!
Interested in purchasing a shirt from Lane Swint's Premier Collection? Shop Now.