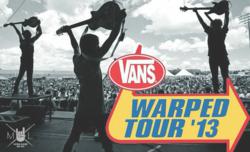 Must see Bands
(PRWEB) June 11, 2013
Summer is here at last, which means there's a music festival just about every weekend, and MVMETICKETS discount event tickets to all of them. There's a festival perfect for every music fan at MVMETICKETS. Check out these five festivals that are kicking off in June.
Various locations, June 15-August 4
The "Punk Rock Summer Camp" is touring America this summer, bringing must-see bands to almost every state in the nation. Now on its eighteenth year, the tour has expanded from its punk origins to reflect the tastes of younger attendees and include a wider range of genres. Check out bands like The Wonder Years, Citizen, Memphis May Fire, and Reel Big Fish, and find city locations at MVMETICKETS.
Dover, Delaware, June 21-23
Firefly Music Festival is a three-day music experience tucked away in the woods of Delaware. The impressive lineup ranges from A-list performers like Ellie Goulding and the Avett Brothers to up-and-coming acts like the Spinto Band and the Last Royals. Need a break from the music? Check out the other attractions like the Forest Cinema, old-school arcade, and the festival's famous Hammock Hangouts.
Americanarama Festival of Music
Various locations, June 26-August 4
This 26-date tour is bringing some of the most beloved names in American music from Florida to California. Headliners include Bob Dylan, Wilco, and My Morning Jacket.
Telluride, CO, June 20-23
High in the San Juan Mountains of southwestern Colorado, this four-day music festival is celebrating its fortieth year this summer. Four-day passes are sold out almost everywhere, so hurry up and snag yours before it's too late. Don't miss out on this "unbridled acoustic adventure" and the chance to see acts like Mumford & Sons and Emmylou Harris.
Oshkosh, WA, June 25-29
For the eighteenth year, the biggest names in country are coming together for Country USA in Washington – names like Eric Church, Sheryl Crow, and Toby Keith. For the full experience, make sure to get a campsite to stay for the full five days.
For more festivals and concerts, go to MVMETICKETS.