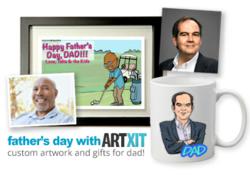 Artwork for all.
(PRWEB) June 10, 2013
Artxit.com introduces a variety of customized Father's Day gift ideas for customers seeking unique and personalized gifts for their loved ones. With a user-friendly ordering interface, customers are free to configure and create original customized artwork delivered digitally or printed on products.
Consumers looking for Father's Day gift ideas no longer have to fret if they are short of inspiration. Artxit.com has plenty of Father's Day cartoon templates designed for anyone hoping to gift dad with commemorative artwork like family portraits; sporting event with dad; sharing a hobby with dad; appreciating dad.
Artxit's homepage has a prominent "Father's Day" product icon that customers can select to create customized gifts via a user-friendly interface. Customers can select from various Father's Day templates to customize and configure appearances, objects, backgrounds, insert messages and voila, the customer has created his or her boyfriend, husband, father, grandfather, and loved one a one-of-a-kind gift. Photos uploaded will provide reference for Artxit's talented and professional artists to render subjects in the selected cartoon. Customers can choose to have the cartoons delivered digitally via email or printed on smartphone cases, travel mugs, fancy frames, and various products. Ground shipping is provided free as is a Free Preview of the artwork before its delivered for any further revisions. Prices are very affordable and start at just $14.95.
For fun cartoon and comic strip ideas, customers can venture to Artxit's "Custom Artwork" and "Create an Avatar" pages, where they find they can configure a unique avatar or storyboard a graphic novel for all the graphic art loving dads out there. With dragons, monsters, and swords as additional characters, customers will find that Artxit has conveniently generated creative ideas for them. All customers have to do is select a template, configure, and buy--as simple as one, two, three!
Launched in Q1 2013, Artxit's continuous objective is to empower individuals, organizations and businesses to create and buy customized artwork and merchandise online using its ever-improving e-commerce services. The Artxit management team is comprised of proven e-commerce and technology leaders who have worked with such companies as Zappos.com and 3Com. Based in the San Francisco Bay Area, Artxit strives to offer the very best service and ready made templates in the industry.
For more information visit Artxit at http://www.artxit.com.