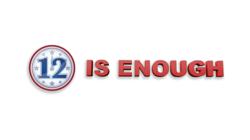 Los Angeles, CA (PRWEB) June 10, 2013
Term limit group 12 is enough reflects on its first year. Ian Clark founded the group in 2012. The group's goal is to force Congress to add an amendment to the United States Constitution enforcing term limits totaling 12 years on the Legislative branch. Term limits are a non-partisan issue supported by most Americans.
Ian Clark talked about the reasoning for starting the group. "I got tired of hearing people complain that Congress is not working. I just heard complaints, but few were trying to fix the system itself". Ian said his reasons to make the group a Super PAC were "Super PACs are what you get when Congress fails to create an election system that works for the People. Therefore we want to use this weapon of greed against the very career politicians who have failed to create campaign finance reforms. If we now live in a world of Super PACs, why not have one for the people of America".
12 is Enough believes that it has the support of the American public. A 2013 Gallup poll shows that 75% of Americans support term limits for members of congress. At the same time the American public gives Congress a 14% approval rating according to "Real Clear Politics". The new Super PAC's platform is simple: Force Congress to work for Americans, not career politicians. The group believes that term limits will provide America with a better economy, create more jobs, improve education for our children, and build a stronger more efficient nation. "Congress is broken and now there is a new Super PAC, with plans to help the American people fix it." Ian Clark
Over the last year the group as grown from an idea to an online destination for all things term limits. The website was launched in the fall of 2012. The group has produced two political ads. One featured last week focusing on John Dingell, the United States longest serving member of Congress. Ian said " We love the growth we have seen in the first year. We are adding a newsroom and blog to the site to give users everything they need to make their own conclusions about term limits."
About 12 is Enough:
12 is Enough has the goal of ending career politics in Washington with term limits. The group was founded by Ian Clark, a leader in the term limit movement. To learn more about the organization please visit http://www.12isEnough.com for more information.