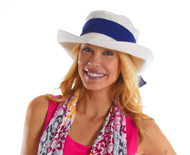 "The Sport Buddy is the most stylish and practical ladies' sun hat on the market today."
Ardmore, PA (PRWEB) June 10, 2013
As women continue to seek fashionable ladies' spectator and sun protection hats, the Sport Buddy hat remains one of many exclusive vendors selected by the USGA to offer merchandise at the U.S. Open. For 12 years running, the Sport Buddy sun hat will be sold at this prestigious event and will feature it's logo on the sash. This year, the Sport Buddy hat can be found at the Merchandise Pavilion at the Merion Golf Club from June 10 to June 16.
"Philadelphia's fashion-savvy ladies have always been known for their keen sense of style," said Melissa Gotfredson, Founder of the Sport Buddy hat. "Most women look amazing in a hat, whether she knows it or not. It's my job to help her find her perfect look with this customizable hat. I'm confident that the Sport Buddy is going to be a hit this summer at the U.S. Open and all over the USA.
While the tournament dates are June 10-16, the USGA offers a public pre-tournament shopping experience in the 24,000 sq. ft. pavilion before the tournament begins, which includes invitation-only vendors like Polo Ralph Lauren and Adidas –and, of course, Sport Buddy. This event offers a unique opportunity for a personal fitting by Gotfredson.
As Sport Buddy hats are only sold on location at a handful of major golf tournaments, Gotfredson invites members of media and event visitors to come by the display for an introduction and to learn more about the Sport Buddy ladies' sun hat.
Sport Buddy is patented, reversible, wind-resistant, crushable and completely washable, with a sun rating of UPF 50+. The sun hat's firm, flexible brim can be shaped into several styles and shapes. The Sport Buddy is made and manufactured in the USA and is offered in white, natural, black canvas and printed canvas with reversible print designs.
For more information on the innovative Sport Buddy hat visit Sun & Color or read the blogs about the Sport Buddy Hats.