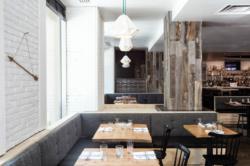 Be Creative, Have Fun!
Sacramento, CA (PRWEB) June 10, 2013
Hock Farm Craft & Provisions in Sacramento used Stikwood's Reclaimed Weathered Wood to wrap columns in their new Farm to Fork Restaurant. Hock Farm is a "modern interpretation of the rustic styles of the 1850's."
Stikwood, was also one of the major products used to create the look and feel of a German Beer Hall in Sacramento. LowBrau used Stikwood's Reclaimed Weathered Wood on the ceilings and walls to capture that rustic yet modern midtown look.
You can also find Stikwood at Cru Cellars in Tampa, Florida and Frankfort, Michigan. Stikwood is also currently spec'd in 3 more restaurants opening this year.
One of the great things about Stikwood is the ability to completely change your décor in hours. No major construction mess, no closing your store or restaurant. You can put the wood wall up after closing and open your doors in the morning to a completely new look.
Whether you are creating a wood wall, wrapping a column, or wood planking a ceiling Stikwood is the way to go! Take a look, http://www.stikwood.com
Stikwood is manufactured in the USA, is VOC free, easy to use and is 100% recyclable.
After experiencing Stikwood my mind can't stop thinking of all the places and ways to use it. It truly is addicting!