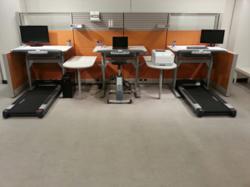 Stay active without thinking about it.
CHICAGO (PRWEB) June 10, 2013
As you read this, chances are you're sitting down. Today, most office workers find themselves chained to a desk, with little to no activity throughout the day. It wasn't always this way, and businesses are increasingly feeling the strain on employee health.
But one company is working to reverse the problem, by reinventing the idea of the traditional office space and putting it on display at Chicago's NeoCon, from June 10-12.
LifeSpan's "Workplace Solutions" transforms ordinary offices into activity centers, with banks of treadmill and bike desks for employees to walk or cycle while they work. The equipment was designed so workers never sound out of breath, break a sweat or disturb their neighbors. And they can tally up more than a marathon's worth of distance in a single workweek, without even thinking about it.
From big steps involving entire floor plans, to little steps with stand-alone treadmill and bike desks, LifeSpan will present new ways to bring activity back into the workday, fitting every employee, office configuration and budget.
Visitors to LifeSpan's NeoCon booth, #8-4042, can test-drive active workplace gear and see employees in motion, using:

Communal Active Work Station
Crafted specially for NeoCon, this active workplace configuration is meant for an open office or conference room layout, and is outfitted with height-adjustable standing, walking and cycling desks. They're linked together, with side-tables between them. Multiple employees can move and work together at the same time. (patent pending)
Cubical Active Work Station
For offices with a standard cubicle layout, this configuration allows employees to share a treadmill or bike desk, and a height-adjustable standing desk. Workers can alternate between standing, sitting or moving. (patent pending)
Individual Active Work Station
This configuration is for single users in a private or designated office setting. It can be used with LifeSpan desks or existing standing and height adjustable desks and includes options for treadmill or bike desk bases. The treadmill and bike desk bases allow workers to move at a comfortable pace, performing tasks traditionally done while sedentary, like typing, reading and making phone calls. The treadmill base has built-in Intelli-Step technology that keeps track of steps taken and calories burned, and Intelli-Guard technology that automatically pauses the treadmill when no steps are detected. The bike base is easy to move, with two rear wheels allowing it to be moved between standing desks in the same office. Both the treadmill and the bike desk bases come with Bluetooth consoles that sync movement data with the user's computer.
LifeSpan's Workplace Solutions come at a time when the link between sedentary behavior and chronic illnesses such as heart disease and diabetes – even early death – is becoming clearer. A study published in the American Journal of Epidemiology concluded that women who sat six or more hours per day were 37 percent more likely to die than women who spent less than three hours a day sitting. For men, the risk was 18 percent higher. Although active workplaces are not meant to replace exercise, every authority agrees on the benefit of incorporating more movement in a day.
For more information, visit http://www.lifespanfitness.com or contact Adam Ritchie at (617) 819-4237 / lifespan(at)aritchbrand(dot)com.
LifeSpan makes fitness gear that keeps you physically active, at home and at work. Combining comfort, quality, design and affordability, LifeSpan uses technology to track your real-world progress against your virtual goals. Consistently winning awards from trusted sources, including Health magazine's "America's Healthiest Company," LifeSpan's commitment to health goes beyond business, to its work with medical nonprofits and community fitness events. LifeSpan was founded in 2002, and is based in Salt Lake City. For more information, visit lifespanfitness.com.
IMAGES (high-res versions available on request):
LifeSpan Communal Active Work Station (patent pending)
http://www.aritchbrand.com/client_lifespan/lifespancommunal.jpg
LifeSpan Cubicle Active Work Station (patent pending)
http://www.aritchbrand.com/client_lifespan/lifespancubicle.jpg
Walking and working on a LifeSpan Treadmill Desk:
http://www.aritchbrand.com/client_lifespan/lifespantreadmilldesk.jpg
Cycling and working on a LifeSpan Bike Desk:
http://www.aritchbrand.com/client_lifespan/lifespanbikedesk.jpg