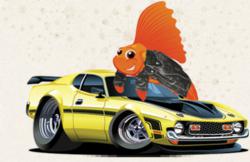 ...I would urge consumers to think twice before they swipe a credit card or take out a non-revolving loan.
New York, NY (PRWEB) June 09, 2013
RoadFish.com men's lifestyle and finance magazine today released their observations regarding the rise in consumer borrowing through non-revolving loans, such as student and auto loans, as of April. RoadFish.com believes this trend to have resulted as an effect from the U.S. housing recovery as well as the currently high stock values. The finance column advised consumers not to go too crazy with borrowing, as unemployment is still high and the economy is still in recovery-mode.
According to a Bloomberg article by Jeanna Smialek, published June 7th 2013, U.S. consumer borrowing accelerated in April with consumers expanding on their non-revolving loans. Smialek reported that according to the Federal Reserve figures, April saw a $11.1 billion jump in credit, coming directly after a $8.37 billion rise in March. The article states that households are in better position to grab a hold of low interest rates on cars and other big purchases as a result of the property and stock values going up so much recently.
RoadFish.com sees the credit activity as a sign of economic growth and consumer confidence, but warns consumers not to go overboard. RoadFish.com's Senior staff writer is quoted as saying, "It's a wonderful feeling to be able to take advantage of a good thing—and low interest rates are certainly a good thing. But our economy is still in a precarious state, and I would urge consumers to think twice before they swipe a credit card or take out a non-revolving loan. Unemployment is still high, and the economy still recovering. I would warn our readers not to bite off more than they can chew—even though the rates are tempting. If you're simply not in position to do it, no matter how enticing it may seem, resist."
Tom Simons, an economist for Jefferies LLC in New York, is quoted as saying in the above Bloomberg article, "A lot of what is driving consumer credit right now is non-revolving credit…the unemployment rate is going to have to fall and earnings are going to have to go up before people are comfortable spending more than they make." The Bloomberg article reported that wage gains have barely gone up from April to May, only rising from an average of $23.88 in April to $23.89 in May. The Labor Department reported that unemployment also rose from 7.5 to 7.6 in May.
RoadFish.com encouraged consumers to keep monthly budgets in order to help determine whether they can afford to take on a new loan. RoadFish.com's Senior staff writer is quoted as saying, "Loans can be amazing tools. They can open up doors for us, such as giving us college educations or allowing us to buy a car without having to pay all at once. And as a bonus, if I as a consumer am good about making timely payments, my credit score will most likely benefit as well. But the thing about non-revolving loans is that they are fixed, meaning you can't pay less one month if you're all of a sudden earning less, and they usually last for years. So before taking on a loan that could take you three to twelve years to pay back, make sure it's in the budget—both now and down the road."
The above-mentioned Bloomberg article states that the property values in 20 U.S. cities went up by 10.9% in the year to March. This is reportedly the biggest gain that has occurred within a 12-month time span since 2006. The article states that consumer spending is most certainly being strengthened by this housing recovery.
About RoadFish.com:
RoadFish.com is an online magazine reporting on lifestyle and finance topics relevant to moderately successful middle aged men. RoadFish.com commonly features articles about everything from hot chicks, to restaurant reviews, to luxury items for men, to which online dating service rocks. The men's column also offers financial guidance, reporting on budgeting, debt management, and money management tips for college grads. RoadFish.com is owned and operated by Purpose, Inc.