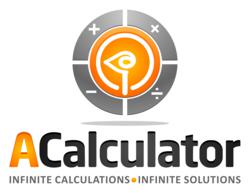 (PRWEB) June 11, 2013
acalculator.com, a recently launched website that offers hundreds of financial calculators for various uses, has announced that College Saving calculator is among their most used tools on the website. The statement was made by the spokesperson for acalculator.com who explained the major idea behind the website and also shared his views regarding the importance of early college saving initiatives by parents.
According to the spokesperson, the website has acclaimed a huge response within a short time period. Explaining how financial calculator and tools are currently in high demand, he said, "One of the reasons behind the success of acalculator.com is the timing of its launch. Presently, people are looking for free online financial help more than ever. And a calculator to answer your specific financial problem is not only accurate but also highly efficient solution."
As for the college savings calculator, it allows parents/guardians to calculate the amount of saving required every month. It takes into account several factors such as age of children, rate of return, monthly contributions and education cost inflation. The calculator also suggests useful changes that parents are required to make to their college saving plans in order to meet their goals more efficiently.
The spokesperson stressed the importance of starting college savings as soon as possible. Early start, he emphasized, will reduce the amount of initial balance and monthly contributions. "Judging by the rapidly changing financial situation, it is only wise to start college saving before its late. This will greatly lesson your burden as inflation rises even more in the future," the spokesperson suggests.
At the same time, the spokesperson advises the website users to use personal finance and budgeting calculators to cut their unnecessary expenses. In this aspect, the website has more than twenty financial calculators that can help in solving personal and household budget issues. Some of the other most used calculators on acalculator.com include the Benefit of Spending Less calculator, Lunch savings calculator, Saving goals calculator and a calculator that allows user to compare saving rates.
Other than saving calculators, acalculator.com offers more than 300 calculators covering various financial aspects including taxes, insurance, mortgages, debt and credit cards. While most of the calculators are created for the US users, the website equally caters to Canadian and Australian users. There is a separate category of calculators available in Canadian-French.
In the end, the spokesperson added that the team behind acalculator.com aims to add more categories and calculators in order to expand their outreach. For more information, please visit the website http://www.acalculator.com
About acalculator.com
acalculator.com is a newly launched website that offers budgeting and financial calculation tools for free. The website currently features 300 different calculators ranging from mortgage calculator to long term care calculator. The website caters to users from USA, Canada and Australia by providing them essential tools to help them plan their financial future. To contact them, please use the following details.
Contact details:
Web: http://www.acalculator.com
Phone: 123-456-7890