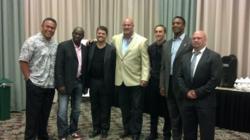 Phoenix, AZ (PRWEB) June 10, 2013
Once leaders of America's sport; Mike Haynes, Chuck Foreman and Carl Eller are now leaders for representing and improving the overall health of former NFL players everywhere. Fueled by their encounters with drawbacks caused by competing at top levels of play for so many years, they have been on a mission to battle preventable health complications.
Pro Player Health Alliance (PPHA) has set out on a national campaign titled "Tackle Sleep Apnea" which is intended to raise awareness on sleep apnea in our nation. David Gergen, President of PPHA and Gergen's Orthodontic Lab, has dedicated the past year forming an alliance with those retired NFL greats who share personal experiences related to sleep apnea. Carl Eller, who is a member of the Board of Directors for the Retired Players Association (RPA), has mad plans with David Gergen to hold overall health screenings at Scripps Memorial Hospital this fall and another at the University of Minnesota next spring. Due to Gergen's efforts, over 150 retired professional athletes have been successfully treated for the deadly disorder and hundreds more fans have been referred to doctors across the country.
"Cancer does not care if you're a Hall of Famer, your zip code or how much money you have," says Haynes, who is quick with a smile. Haynes was surprised to know that if a person is snoring and has other types of 'sleep disordered breathing', as it is known, can deprive the body of enough oxygen for hours at a time. Scientists now believe that having low blood oxygen levels can trigger the development of cancerous tumors by promoting the growth of the vessels that feed them. In the future, doctors could help people fight the disease by stopping them from snoring. More statistics can be found in the full article at snorerx.com © 2012 Apnea Sciences Corporation
Haynes was treated for minor sleep apnea by one of the country's most well-known sleep specialists in the country, Dr. Bradley Eli. Dr. Eli strives for 100% compliance among patients by offering all nonsurgical treatments for sleep apnea at one location, which is why he has been trusted by multiple Hall Of Fame NFL players to provide them with the best night's sleep possible. Dr. Eli is located in southern California; he can be contacted by visiting http://drbradeli.com
About David Gergen
David Gergen, CDT and President of Pro Player Health Alliance, has been a nationally respected dental lab technician for over 25 years. He received the award for "The Finest Orthodontic Technician in the Country" given by Columbus Dental in 1986. He also has been appointed chair of the dental wing of the American Sleep and Breathing Academy a national interdisciplinary academy dedicated to sleep training and education with over 60,000 members. David rolled out of bed on September 12, 1981 and had his career "ah ha" moment. He knew he was going to be an orthodontic technician and he knew he was going to help people all over the country to help treat their sleep disorders in partnership with their dentists. He has worked for some of the pioneers in the orthodontic and sleep dentistry fields. He was the personal technician for the likes of Dr. Robert Ricketts, Dr. Ronald Roth, Dr. A. Paul Serrano, Dr. Clark Jones, Dr. Harold Gelb, Dr. Joseph R. Cohen, Dr. Rodney Willey, Dr. Allan Bernstein, and Dr. Thien Pham. One of his proudest achievements is receiving The National Leadership award for Arizona Small
About Dr. Bradley Eli
Dr. Eli earned a post-doctoral Master's Degree at UCLA where he received advanced training in sleep disorders. He remains the only expert with this unique skill set in the San Diego region. Dr. Eli is on the hospital staff at Scripps Memorial Hospital La Jolla and UCSD. He is a member of numerous professional associations including the American Academy of Sleep Medicine and the American Academy of Dental Sleep Medicine. He holds multiple patents in the fields of both sleep and pain.
About Pro Player Health Alliance
The Pro Players Health Alliance (PPHA) is an organization dedicated to helping former NFL players, through providing testing and treatment options for those who suffer from sleep apnea. In addition, the PPHA is dedicated to integrating education and raising sleep apnea awareness, in a fun and memorable way. In addition to the campaign, the PPHA is dedicated to testing and getting people treated who suffer from sleep apnea. The PPHA was created by David Gergen, President of Gergen's Orthodontic Lab and Former NFL legends.