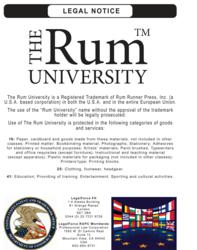 The Rum University is a registered trademark in the USA and in the European Union
Round Rock, Texas (PRWEB) June 10, 2013
The Rum University is a Registered Trademark of Rum Runner Press, Inc. (a U.S.A. based corporation) in both the U.S.A. and in the entire European Union.
The use of the "Rum University" name without the approval of the trademark holder will be legally prosecuted.
Use of The Rum University is protected in the following categories of goods and services:
16: Paper, cardboard and goods made from these materials, not included in other classes; Printed mat ter; Bookbinding material; Photographs; Stationery; Adhesives for stationery or household purposes; Artists' materials; Paint brushes; Typewriters and office requisites (except furniture); Instructional and teaching material (except apparatus); Plastic materials for packaging (not included in other classes); Printers' type; Printing blocks.
25: Clothing, footwear, headgear.
41: Education; Providing of training; Enter tainment; Spor ting and cultural activities.
LegalForce Fh (United Kingdom) and LegalForce Rapc Worldwide (USA).