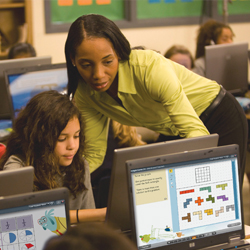 Over 80% of participating teachers reported that T2K had positively impacted their students' engagement in class and 86% of all students reported that using T2K 'made school more fun' and generally improved their performance Math and ELA performance. Chan
Tel Aviv, Israel (PRWEB) June 11, 2013
On 13th June at the Eden Annual Conference in Oslo, Norway, Dr. Dovi Weiss and Rinat Shahaf-Barzilay will be delivering their study "Student Motivation and Engagement in 1:1 Digital Learning with Time To Know (T2K) – Highlight Results from Cross Country Studies." Hosted annually, the Eden Conference is a leading European academic forum aimed at promoting best practices and progressive ideas in the field of educational technology.
The Eden paper will describe findings about the potential for T2K's 1:1 computing platform to deliver a holistic solution, creating more joyful learning and teaching. The study showed significant increases in student motivation and engagement, with 74%-91% of the students stating that T2K 'made math classes more interesting and fun, and [that they] understood math better'.
According to Dr. Weiss, Chief Scientist at Time to Know, "This cross-country research demonstrates the potential educational benefits of technology-rich educational environments in the K-12 educational system."
On Monday 24th June, at ISTE's Annual Conference in San Antonio, USA - a premier platform for advancing excellence in learning and teaching through innovative technology - Dr. Damian Bebell from Boston College and Dr. Weiss from Time To Know will be presenting their paper "Evolving Pedagogy with 1:1 Computing and T2K's Digital Teaching Platform." The paper is based on two years research conducted by Boston College.
In the roundtable session, Dr. Bebell and Dr. Weiss will present findings from the implementation of T2K's digital teaching platform within four New York City public elementary schools. Although teacher-directed, significant elements of the program ran on individual (1:1) student laptops. The study demonstrates predominantly positive impact on students, teachers, and schools, as well as important advances in delivering 21st century learning practices.
According to Dr. Weiss, "Over 80% of participating teachers reported that T2K had positively impacted their students' engagement in class and 86% of all students reported that using T2K 'made school more fun' and generally improved their performance Math and ELA performance. Changes in teacher attitudes were also noted, with T2K teachers reporting increases in how often they used assessment results to inform instruction."
These two papers demonstrate Time To Know's thought leadership in the field of digital learning platforms, 21st century skills and teacher-led digital instruction.
About Time To Know
Time To Know was established in 2006 with the aim of leading the digital education revolution in classrooms around the world and ensuring that students are truly equipped with the skills required in the 21st century.
The company promotes learning and teaching solutions designed to empower teachers and students in the digital age. Today, over 200 schools around the world are currently working with Time To Know. The company partners with leading publishers in the global K–12 marketplace, such as McGraw-Hill Education in the US and Doosan Dong-A in South Korea, to provide local core curriculum.