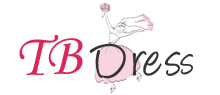 (PRWEB) June 10, 2013
TBdress.com is a professional women's dress company. Recently, the company has released its new collection of wedding rings, and announced a special offer on these wedding rings. The promotion, up to 80% off, will be valid until June 18, 2013.
Wedding rings are usually worn on the left hand, and are used to symbolize the eternal bond of marriage. They should reflect the personality of their wearers and should be kept with care. TBdress.com now carries a large inventory of wedding rings, and aims to provide a one-stop wedding solution for young couples worldwide.
"Every bride wants to look beautiful on her special day, and we are ready to provide each bride high quality products and services," says Edmond Liu, a spokesman for the company. "We are excited to launch the promotion, and make our products available to more people. Please note that the promotion is valid for two weeks only, ending on June 18, 2013."
TBdress.com is a leader in the industry for its high quality wedding dresses and wedding accessories at affordable prices. TBdress.com's best-selling products include lace wedding dresses, 6 piece bedding sets, trendy handbags, and more.
About TBdress.com
TBdress.com is offering extensive and stylish collections of wedding dresses and other special-occasion dresses at acceptable low prices, and its products include a wide range of wedding dresses, wedding lingerie, evening dresses, prom dresses, and more. They have vowed to provide their own wedding dresses without sacrificing the top-quality materials and fast delivery.
More details about corset and lingerie, please visit http://www.tbdress.com