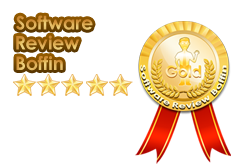 Where other software lacked, Prism would overcompensate, it was made cleared.
New York City, NY (PRWEB) June 13, 2013
Prism Video Converter Software is Boffin's top pick as the best video converter software for this year, announced today the Boffin team of reviewers. Prism Video Converter was evaluated by Boffin reviewers for its conversion speed and time and overall quality of the end-result videos and has been unanimously found to excel in every category.
The video converting software is, according to the Boffin reviewers, a one of its kind software, offering an advanced user-experience. The reviewers emphasized how well-designed the software is, making it an apt choice for video conversion software beginners as it requires no technical skills to get the hang of. According to Boffin reviewers, the software features a clean, user-friendly interface with all necessary functions and tools right on the main software interface for quick, accurate and quality video conversion experience.
The Boffin reviewers recognized how much effort and skill has been invested in the software's development by NCH company who've created a state-of-the-art software that makes video conversion an enjoyable and rewarding user experience. The reviewers at Boffin assert that the software is by far an efficient video converting program that allows users to convert a large variety of formats into high quality new formats, including video and audio formats, VHS to DVD as well as PDF file printing.
Amongst the many reviews for video converter software, Prism managed to stand out in view of its unsurpassed superiority over all other video converter software. Where other software lacked, Prism would overcompensate, it was made clear. Concluding, the Boffin team eagerly revealed that Prism Video Converter is an appealing solution for users wishing to easily and efficiently convert their videos to different high-quality formats for personal use.
The Boffin reviewers also issued a clarification mentioning that the software reviewed by Boffin are subject to change at any time in view of new software releases and upgrades being published. Moreover, it was made clear that the top three software had little, if any, differences in features and overall performance, making the final ranking a head-scratching task for the Boffin reviewers.
Software Review Boffin reviews the latest technological products in demand on the market right now. They provide expert, honest and straightforward reviews so customers can objectively measure if a product, especially software, is well worth it before making their purchase.
To learn more about Software Review Boffin, visit http://www.softwarereviewboffin.com.