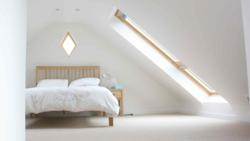 Companies like Simply Loft can go much further to create completely bespoke loft conversions in London which cater to even the most creative of needs.
London, UK (PRWEB UK) 14 June 2013
There's a lot more to a great loft conversion in London than a beige box to place a bed in. That is the verdict of Simply Loft, one of the fastest growing home improvement specialists in London.
Loft conversions in London are amongst the most popular home improvements available, and there are a number of benefits from opting for even the most basic loft conversion. With house prices in London remaining high, a loft conversion is a relatively cost-effective way for a household to gain more quality living space. Better yet, loft conversions don't simply mean less outlay, but less hassle.
Quality loft conversion specialists can complete a project in as little as six weeks, and since builders work from scaffolding outside the property, families can continue to live at home during the project with a minimal amount of disruption. Once complete, loft conversions in London could add as much as 20% to the value of the property; big on value, but perhaps not always big on imagination.
In the past, loft conversions rarely strayed beyond the formula of neutral colours, extra beds and the provision for an en suite bathroom, but now companies like Simply Loft can go much further to create completely bespoke loft conversions in London which cater to even the most creative of needs.
Some households choose to create the airy and spacious master bedrooms of their dreams, others think further outside the box, creating stylish and practical living and work spaces that are unique to their home. Some forgo traditional double glazed windows for expansive and dramatic skylights. It is possible to open a home up to the heavens, but the latest in soundproofing means that homeowners still keep noise pollution out.
One loft conversion made the news recently after one London resident transformed his loft into a recording studio, complete with a roll-out for musicians working overtime to lay down their track.
With Simply Loft, London residents can transform their dormant loft space into whatever they want it to be. The company manages all of their loft conversions in London from start to finish, including all planning permission and paperwork to make life easier for the customer.
Following a comprehensive site survey, the client receives a free, no-obligation quote. Designs are drawn up which cater to every bespoke requirement that the customer might have, and once any necessary permissions are in place, a team of expert Simply Loft builders get to work on completing a tailor-made loft conversion in a matter of weeks. This includes any decorative elements or furnishings that are agreed upon and whichever facilities are needed, from plumbing to electricals.
Better yet, the company takes pride in making the process as simple as possible and this includes regular progress updates and a dedicated project manager ready to answer any questions that the homeowners might have.
The result is that they receive a fabulous new space in which to live, work and play in whatever way they want to.
For more information on loft conversions in London and the full Simply Loft service, pay a visit to the Simply Loft website today. Customers will find all the information they need, and they'll have access to a free, no-obligation quote for their very own next-generation loft conversion.