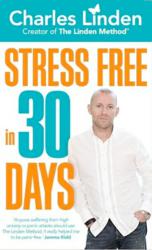 Contrary to popular belief, anxiety and stress conditions can be cured quickly and permanently without drugs or psychotherapy.
Delaware (PRWEB) June 11, 2013
We could all use less stress in our lives. But what if it were possible to eliminate stress altogether? A stress free existence may sound too good to be true, but according to Charles Linden, it is a goal that anyone can attain – in just one month, no less. The anxiety recovery coach, TV presenter and author lays bare his vision in a new book entitled Stress Free in 30 Days released internationally 15th June.
Published by Hay House Publishing, the title – which was released on 3rd June – contains a wealth of stress-busting tips to help sufferers of work or home related anxiety. With 120 million people in the US and Europe suffering from high anxiety conditions, Charles Linden's latest self-help book is as timely as it is practical.
The book opens by defining stress before going on to address such topics as Money, Relationships and Sleep, each of which is assigned a separate 'day' enabling the reader to feel, quickly, calmer and capable of exerting more control over their lives. The book is accompanied by an audio CD that enables deep relaxation with the aid of a series of visualisation exercises.
In his role as an anxiety recovery coach, Charles Linden supports and counsels people from all walks of life including aristocrats, stars of film and TV, musicians and business people. His success at treating anxiety disorders has seen him in international publications such as Vogue, The Times, Grazia, Glamour and many more. Charles is a regular contributor on international radio and TV and has his own TV series of Stress Free in 30 Days to be released on DVD by Hay House very soon.
Stress Free in 30 Days was inspired by The Linden Method, Charles Linden's pioneering anxiety disorder recovery program. The effectiveness of Linden's techniques has been evidenced and underwritten by thousands of testimonials, including some from psychological research academics, Harvard trained Drs of psychology and many practising psychologists and doctors from around the world.
"Contrary to popular belief, anxiety and stress conditions can be cured quickly and permanently without drugs or psychotherapy. We have been doing this for a long time and with compliance, recovery is inevitable. We cure people through our home learning and residential programs. I love what we do for people." - Charles Linden