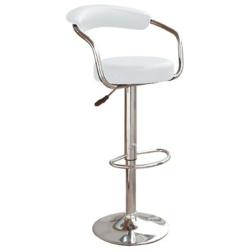 (PRWEB UK) 12 June 2013
FurnitureInFashion, one of the largest suppliers of contemporary and modern furniture in the UK, is pleased to announce that home of bespoke kitchen and home improvements, Maydek Ltd, bought stunning Zenith bar stools from FurnitureInFashion.
FurnitureInFashion is very excited over Zenith bar stools deal with Maydek Ltd, as Maydek is one of the finest companies that provide bespoke kitchen services in the UK.
FurnitureInFashion is one of the leading suppliers of bar stools and bistro furniture. The distinguishing factors that highlight this company are that FurnitureInFashion offers contemporary designs, durability, and very affordable prices. These factors have contributed towards the successful Zenith bar stool deal between the two companies.
Based in West London, Maydek Ltd is a home of bespoke kitchens and home improvements. The company offers one-stop shop kitchen solutions from planning, to extensions, to first-class designed kitchens. Over the past 60 years, the company has produced high-end luxury handmade bespoke kitchens to suit modern living or a competitive kitchen to rival the big brands prices.
All kitchen ranges by Maydek Ltd are built in Britain, and the company has a unique showroom where 23 high-quality kitchens are working with appliances. The spokesperson of Maydek Ltd commented on the successful deal of Zenith bar stools with FurnitureInFashion, "Maydek offers the most innovative and modern bespoke kitchen services, and when it comes to complementing the modern kitchen requirements, FurnitureInFashion is definitely a one-stop shop. Maydek has been closely following the stunning growth of FurnitureInFashion's modern and contemporary furniture catalogue, and the company can safely say that FurnitureInFashion supplies the most innovative styles in bar stools and other bistro furniture. Maydek is known for supplying kitchens to match the modern requirements and Zenith bar stools have helped the company to further enhance the overall feel of modern bespoke kitchens. The company is very happy with the quality of the bar stools and is willing to continue working with FurnitureInFashion in the future."
The Zenith bar stools offered by FurnitureInFashion are the latest addition in the world of bar stools. With their sleek design and look, these bar stools are ideal for a breakfast bar table and the living room as well. Stylish finish and modern design make these bar stools perfect for modern kitchens. Zenith bar stools are available in chrome body with smooth gas lift action. These bar stools are available in black, red, cream, brown, and white colors. Style and comfort have been combined in Zenith bar stools. The approximate width of Zenith bar stools is 34cm and height is 75 to 100cm.
The Managing Director and CEO of FurnitureInFashion said, "FurnitureInFashion is delighted to be the furniture supplier of one of the reputed and largest suppliers of bespoke kitchens, Maydek Ltd. This deal with Maydek will allow us to reach a truly global audience every day through their amazing bespoke kitchens. FurnitureInFashion had a great experience with Maydek and the company looks forward to becoming the regular supplier of Maydek in the future."
To have a look at value-for-money bar stools online, and to place a pre-stock order, please visit the company website today at http://www.furnitureinfashion.net. The range of affordable bar stools and bistro tables available online at the website is huge, delivery is fast, savings are massive, and quality is guaranteed.
About FurnitureInFashion
FurnitureInFashion is a UK-based online retail business. It supplies furniture from its German-based warehouse and has a showroom in Bolton, UK. The company provides everything from umbrella stands, wall art and room dividers, to bedroom suites, bar stools and computer tables. FurnitureInFashion offers free delivery within UK and is proud of its excellent customer service as well. For further information and details of sale, please visit http://www.furnitureinfashion.net.