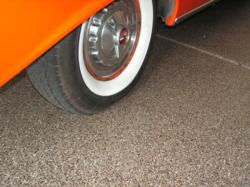 "Our product, The Surface Master, provides a durable, non-slip surface," says Webb. "It's also relatively low-cost, easy to apply, and requires no professional assistance."
Long Island, NY (PRWEB) June 12, 2013
National Coatings Inc., distributor of the popular sealant The Surface Master, has announced a June sale on its decorative paint flakes for its popular paints and coatings.
This is a substantial reduction from the customary price, notes Paul Webb, spokesperson for National Coatings Inc.
"Decorative flakes are popularly mixed into floor sealants," says Webb. "They are especially useful for hiding small imperfections in concrete or for helping mask the constant debris common on work area floors like those of auto body shops."
His firm is a leading nationwide supplier of quality paints and coatings to property owners seeking to beautify and prolong the life of concrete, metal, and wood surfaces in both residential and commercial structures, according to its website.
"Our product, The Surface Master, provides a durable, non-slip surface," says Webb. "It's also relatively low-cost, easy to apply, and requires no professional assistance."
About National Coatings Inc.
National Coatings Inc. is a nationwide provider of protective coatings for concrete, wood and more. It ships nationwide and is happy to provide free quotes. For more information on National Coatings Inc. and their products and services visit TheSurfaceMaster.com or phone (888) 243-2032.