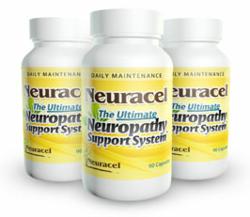 Boise, Idaho (PRWEB) June 10, 2013
Peripheral neuropathy patients have been at the suffering end for far too long now. The condition, which causes severe pain and burning sensations, is pretty hard to cope with. However, when combined with the lack of proper and long term pain relief solutions, the suffering is made much worse. Worse still, according to the latest numbers provided by the Neuropathy Association at http://goo.gl/1kKcD, peripheral neuropathy is growing at an alarming rate and 15-18 million Americans carry this disorder. The respective finding serves to be even more bad news for neuropathy patients. Fortunately though, neuropathy patients might just have found the treatment option they have been looking for by the launch of Neuracel. Neuracel, composed primarily of natural ingredients, is an effective pain reliever and a support system for the nerves which can help patients terminate the pain caused by this detrimental condition.
Neuracel - Natural and Safe
The natural ingredients that make up Neuracel ensure that the product is completely safe to consume. The product, no more than a supplement, is a breakthrough in the fight against peripheral neuropathy which promises patients a much better chance at coping with their condition. Moreover, ingredients such as Prickly Ash Bark and California Poppy are not only natural herbs, but they are also popularly known as natural pain relievers. Combining these top of the line ingredients in a perfect mixture, all inside a small capsule, is what Neuracel prides itself on. The small size and safety of the product ensures that Neuracel can be used in the long term by all the patients diagnosed with peripheral neuropathy. In fact, the manufacturer recommends a daily dosage of Neuracel daily to help keep peripheral neuropathy at bay.
Further Information Regarding Neuracel
The ultimate neuropathy support system can be ordered directly at https://neuracel.com/specialoffer.php. The manufacturer promotes trials and offers a two week free trial period too. For detailed product information and customer reviews, visit https://neuracel.com.