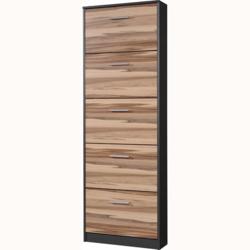 (PRWEB UK) 14 June 2013
FurnitureInFashion, one of the largest suppliers of contemporary furniture in the UK, is pleased to announce the launch of stunning and contemporary Baltimore walnut shoe storage unit. It is a stunning wall-mounted unit with enormous storage for organizing shoes and other items. FurniturenInFashion is one of the largest suppliers of hallway furniture in the UK and offers every hallway storage solution in different materials, sizes, and innovative designs. Baltimore walnut and gloss white hallway stand is an excellent unit for storing shoes and hanging coats as well. Due to sleek and geometrical designs with higher functionality, hallway contemporary furniture by FurnitureInFashion has gained much popularity, and the demand has increased for hallway furniture. This has encouraged the company to frequently offer innovative designs in bulk so homeowners can choose ideal storage solutions for their homes from an expansive catalogue of FurnitureInFashion.
Most of the contemporary furniture for hallway offered by FurnitureInFashion is of multipurpose nature. Contemporary Baltimore walnut white high-gloss storage unit is also a multipurpose product. The wall-mounted feature of this storage unit makes it an ideal addition for smaller places as well. This stunning unit comprises of a shoe cabinet, hanging rail, and a mirror. For shoe storage, this unit offers two pull down drawers in white high-gloss finish. These drawers have long metal handles for style and elegance. To arrange shoes in organized and convenient way, these two pull-down drawers offer metal baskets. Homeowners can store their fancy shoes in these metal baskets for lasting protection.
Since the living room is always a place where guests are served, this room tends to be more cluttered with coats, scarves, and hats. Homeowners can now organize this clutter with stunning Baltimore walnut storage unit, as it offers a hanging rail. This hanging rail can easily hold coats, scarves, and hats. As this unit is meant for entryways and hallways, a mirror has been added in this shoe storage unit where individuals can have a last look at themselves before leaving for work or a party. The top area above the drawers can be used for decorating ornaments and make a style statement to be remembered. Baltimore shoe storage unit has a gloss white MDF front for durability, strength, and style. It is an ideal and trendy storage cabinet for all types of shoes. The width of this storage unit is 120cm, depth 36cm, and height of 195cm. The sleek design with lots of storage space and simple structure make this contemporary furniture product an excellent storage solution for any home.
The managing director and CEO of FurnitureInFashion said, "FurnitureInFashion believes in offering multifunctional contemporary furniture. The hallway furniture catalogue of FurnitureInFashion offers some of the Italian design concepts fused by using German manufacturing processes. The reliable German manufacturing processes, along with affordable prices, make the company one of the largest names in the furniture retail business."
To have a look at quality affordable hallway furniture online, and to place a pre-stock order, please visit the company website today at http://www.furnitureinfashion.net. The range of hallway contemporary furniture on the website is huge, delivery is fast, savings are massive, and quality is guaranteed.
About FurnitureInFashion
FurnitureInFashion is a UK-based online retail business. It supplies furniture items from its German-based warehouse and has a showroom in Bolton, UK. The company provides everything from umbrella stands, wall art and room dividers, to bedroom suites, bar stools, and computer tables. FurnitureInFashion offers free delivery within UK and is rightly proud of its excellent customer service. For further information and details about sales, please visit http://www.furnitureinfashion.net.