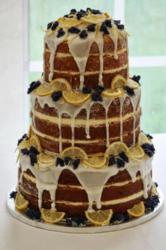 "Social Media Marketing is an essential pillar of the business, not an accessory, use it more often and use it well." -- Ciaran Connolly, Co Founder of ProfileTree
Cape Town, SA (PRWEB) June 11, 2013
A baking entrepreneur of South Africa spoke to ProfileTree about the work and success of Lady Lucy Kitchen.
When it comes to her inspiration behind becoming a baker, she said "I wanted to explore my entrepreneurial side."
She prides herself on the varied range of customers from all over Cape Town as well as using "real butter, free range eggs, pure vanilla, premier quality chocolate, and heaps of love to create cakes and cupcakes that taste as good as they look."
She advises all potential entrepreneurs to stay updated with the world of social media calling it "The Internet is word of mouth on steroids."
Ciaran Connolly, Co-Founder of ProfileTree said "Social Media Marketing is an essential pillar of the business, not an accessory, use it more often and use it well."
Profile Tree's main goal is to help small business owners reach new customers every day with the most innovative online marketing tips and techniques.
About ProfileTree: ProfileTree is a free listing service where self employed and small business owners can create an online marketing profile. From Pencil or Portrait Artist to Self Employed Service Providers - anyone can create a skills profile on ProfileTree for free.
The website also enjoys sharing motivation photos for the self employed, helping with focus and drive. From professional wedding photographers to anyone offering a service - it can be listed online today.