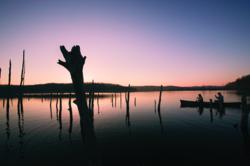 Stocked with game fish, Patoka Lake is a fisherman's dream.
Birdseye, IN (PRWEB) June 13, 2013
Imagine having an 8,800-acre lake with 161 miles of shoreline and ten launch ramps to use for most every type of freshwater recreation. This remarkable public property is Patoka Lake, the jewel of the beautifully steep hills and narrow valleys of Southern Indiana.
Stocked with game fish, Patoka Lake is a fisherman's dream. According to Property Manager Tony Hazelwood, "The fishing season for crappie and bass has been good so far this year, and the blue gill season is just beginning. The lake is at an ideal water level, and the boat ramps and facilities are in great shape."
Under the auspices of the U.S. Army Corps of Engineers, Patoka Lake serves as flood control, water supply, recreation, and fish and wildlife management. Since the construction of the Patoka River dam was completed in 1978, the lake has become a natural ecosystem. Fish, turtles, frogs and otters live in the lake; raptors, waterfowl, wading birds and shorebirds hunt along its edges.
The Indiana Department of Natural Resources leases and manages the land around the lake to create wildlife habitat for game and non-game species. Grassland restoration, food plots and wetland management make excellent wildlife habitat, and it's not unusual for the hunter and nature-lover to see quail, turkey, grouse, deer, mourning dove, rabbit, squirrel, and other game species. Fish-eating raptors such as bald eagles and osprey are routinely spotted on and around the lake.
Patoka Lake's 26,000 acres make it Indiana's largest, public recreational property offering numerous land-based, outdoor activities including archery, bicycling, camping, cross-country skiing, hiking, hunting, and picnicking. Disk golf and geocaching are two relatively new hobbies for Patoka Lake visitors. According to Hazelwood, "Quite a few people use our disk golf course (also known as frisbee golf course), and we expanded it a few years ago to 18 holes so sanctioned tournaments can be held here. During the last event, we had approximately 90 participants; it's becoming a very popular hobby."
Geocaching is an outdoor treasure hunt utilizing GPS-enabled devices to hide and seek containers (geocaches). Hazelwood said, "We do have several geocaches registered here, though we really don't know how many people are participating because of the nature of the game."
If camping is the recreation of choice, approximately 500 campsites are available and 90% have access to electricity. Due to the cool, damp weather conditions, the campground hasn't been fully occupied yet this year except Memorial Day weekend. Hazelwood expects the campsites will begin filling up quickly once the weather becomes more summerlike. He commented, "Our campsite registrations are nearly full for the Fourth of July, and almost half the sites are already registered for the October Fall Getaway."
Throughout the summer, the Interpretative Staff provide special programs for campers and day visitors such as habitat and wildlife hikes, a beginner's archery class, birds of prey workshop, etc. There are numerous opportunities to personally meet the lake's resident birds of prey -- a red-tailed hawk and an eastern screech owl.
Patoka Lake has several hiking trails ranging from the short "Garden Rock Loop" to a 6 ½-mile rugged hike. Bicyclists enjoy more than six miles of paved bike paths from the main gate to the beach, campgrounds, visitor center and marina.
For those with an adventurous spirit, the inaugural Patoka Lake Triathlon is scheduled for Saturday, August 24th. This event includes swimming 500 yards in open water at the beach, biking 12.8 miles along paved hilly roadways, and running 3.1 miles through the woods on well-maintained, gravel lanes and a paved bike trail. Event proceeds will support Patoka's resident red-tailed hawk and eastern screech owl and help acquire a non-releasable eagle for educational programming.
To learn more about recreational opportunities at Patoka Lake, please visit http://www.in.gov/dnr/parklake/2953.htm and http://patokalakeindiana.com/ or call the Visitor Center at 812/685-2464.