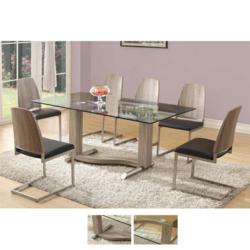 (PRWEB UK) 24 June 2013
FurnitureInFashion, known globally for its expanding collection of home furniture, has officially launched the latest addition to its glass dining table selection, the Manta dining table. Customers can now add a contemporary feel to their dining room by incorporating the stunning, unique Manta dining table. FurnitureInFashion is continuously extending its dining table catalogue, offering dining tables in different finishes including wood, glass and marble. The Manta dining table set is a stunning fusion of Italian design concepts. It combines glass and oak to give a singular luxurious look to the overall décor of the dining room.
The Manta dining room set is complimented and completed by six dining room chairs. The table top of the Manta is 12mm tempered glass. The table can easily accommodate six people. The six chairs which accompany the Manta dining table are provided in an oak finish with a black seat. The fusion of black and oak in the Manta chairs make this dining table set ideal for the contemporary dining room. To provide extra comfort during mealtimes, generous upholstering has been included in the Manta chairs. High quality steel provides the frame for the dining chairs.
The Manta dining table range adds warmth, perfectly fits existing room concepts and is practical for everyday use. Meticulously crafted, the Manta dining table set not only looks good but is hard wearing. The substantial glass of the Manta table top and its oak finish reflect FurnitureInFashion's commitment to the high quality and design of their products. The table and chairs are a perfect partner for all occasions. Easily cleaned and maintained the Manta set will add style to any occasion. The stylish Manta chairs which are 46cm wide, 55cm deep and 94cm high are a striking partner to the simple clean lines of the dining table.
The Managing Director and CEO of FurnitureInFashion said, "FurnitureInFashion adds new additions to our product range frequently as the company wants to be at the forefront of customer taste and market trends. The company delivers a flawless product range. FurnitureInFashion is trying to come up with more additions such as the Manta dining table that will provide our customers with even more choice."
The new Manta dining table and chairs range by FurnitureInFashion exhibit true craftsmanship and a perfect finish. Available for bulk and individual buyers, Manta dining tables and chairs can be obtained at competitive prices. FurnitureInFashion offers a separate catalogue of dining tables and chairs. Customers are free to customize and personalize their dining suites by choosing dining tables and dining chairs from separate catalogues.
To have a look at value-for-money dining tables online and to place a pre-stock order, please visit the company website today at http://www.furnitureinfashion.net. The range of affordable dining tables on the website is huge, delivery is fast, savings are massive and quality is guaranteed.
About FurnitureInFashion
FurnitureInFashion is a UK based online retail business. It supplies furniture items from its German based warehouse and has a showroom in Bolton, UK. The company provides everything from umbrella stands, wall art and room dividers to bedroom furniture, bar stools and computer tables. FurnitureInFashion offers free delivery within the UK and has fantastic customer service. For further information and details, please visit http://www.furnitureinfashion.net.