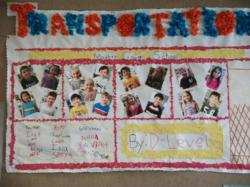 San Francisco, CA (PRWEB) June 10, 2013
Mother Goose School held its bi-yearly Parent's Night last month. The event is an adults-only evening that allows parents to mingle and spend time with teachers and to see the work being completed by the children.
"Participation was the highest it has ever been" observed Dana Hemberger, owner of Mother Goose School. "Parents had a wonderful time getting to know each other better and talking with our teachers. The classrooms displayed the children's best efforts in math, social studies, arts, and early literacy. Parents really appreciate the work we do." The event was fun and festive, featuring an exceptional spread and culinary delights made by its very own school chef. Champagne and cocktails rounded out the parent-only evening.
Mother Goose School was also happy to see record turnout at their recent Multicultural event. Families raved about the musical production, props, dancing and singing. They applaud their talented young performers.
During this month, the theme at Mother Goose is transportation. Students will learn about the different methods people use to move about the city, state and country. San Francisco has a unique assortment of transportation options. The children will learn about BART, taxi cabs, ferries and streetcars, and the famous San Francisco cable cars. Children will also learn about different means of transportation, such as wheelchairs, bikes, rollerblades, scooters, planes and sailboats.
June will also be the student's opportunity to celebrate Father's Day. They will be assembling a special craft and card to give to their fathers and grandfathers.
In science, new experiences will be introduced each week. There will be an experiment with lemon juice on paper ("invisible ink"), and kites to demonstrate air flow and pressure gradients. Mother Goose School takes pride in providing the students something new to discover every week.
About the company
Mother Goose School has been serving the child care needs of families of San Francisco and the Bay Area as a day care and preschool facility since 1951. Mother Goose School is open to all children between the ages of two and six. The primary focus of the school is to instill in each child a lifelong enjoyment of the learning process. The school is comprised of five developmental levels ranging from nursery through kindergarten age. Mother Goose School is open 7 a.m. to 6 p.m., Monday through Friday. They prepare and serve a hot, well-balanced lunch each day, as well as a nutritious mid-morning and mid-afternoon snack.
Mother Goose School believes that the development of the child's mind, body and character are equally important. In order to educate the whole child, their daily program includes instruction that is based on a balanced, all-inclusive curriculum. This preschool curriculum is specifically intended to provide a firm foundation for each child in preparation for any public or private school. The daily program at Mother Goose School includes academics, art and crafts, physical education and social skills. Music instruction is shared with morning classes twice weekly. Classrooms are equipped with child-friendly music. They also offer toilet training in their nursery program and a naptime every afternoon.
For more information, please visit their website at http://mothergooseschool-sf.com , or call them at (415) 424-4839. They tour prospective parents with their children daily at 10 a.m. and 3 p.m.