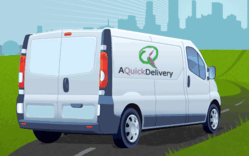 Atlanta, GA (PRWEB) June 11, 2013
AQuickDelivery, a recognized leader in same-day delivery, messenger and transportation services, announces next-day returns for court filing deliveries. AQuickDelivery is a courier that pursues to be the best choice in courier and same-day solutions throughout Georgia.
The AQuickDelivery next-day returns for court filing deliveries typically involves a service known as a round-trip delivery. The driver will pick up the document to file it, have the clerk stamp date a copy, and then, return the stamped copy to the law firm. The filing of the document is most important for the law firm on the day of the order. However, the return of the stamped copy is not. AQuickDelivery offers its' law firm clients the option of returning the documents to the pick-up location the same day or via the next-day return service for the stamped copies.
The next-day return delivery will be performed between 8:00am and 12 noon, unless the client specifies otherwise. AQuickDelivery offers this service at no additional charge to their customers. In the event a client requests a round-trip service on a Friday, the driver is still able to simply return the documents back to the origin on the following Monday.
AQuickDelivery offers this complimentary service as a benefit to its law firm clients, which typically request a large volume of courier services to and from various court systems. The Atlanta courier provides the law firms with service flexibility and a superior client experience. Also, the next-day return delivery service allows law firms to utilize its Regular Service option, which is the least expensive service type.
The value-added service is not only available to law firm clients, but also other businesses and single individual customers. For special service requests, customers can contact AQuickDelivery and its Sales Staff, which is knowledgeable and capable of creating logistic courier solutions to meet its clients same-day delivery needs.
AQuickDelivery is a premier Atlanta courier offering transportation and distribution services throughout Georgia. From small packages to palletized freight, AQuickDelivery delivers fast. From Atlanta, Georgia, the courier provides same-day delivery successfully for over 1,500 clients, including Fortune 500 companies throughout the US.