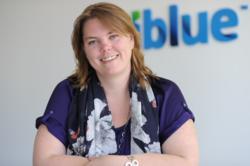 Uniblue is expanding its product portfolio and in parallel its team across all areas of the business
(PRWEB) June 11, 2013
Marieke den Hoed has taken up post as VP of HR at Malta-based Uniblue Systems Limited, to manage the planned recruitment increase of 25% and expand the employee development programme, it was announced today.
With experience at companies including IBM , Lenovo and McAfee, Marieke is no stranger to HR; having worked as HR Partner / Manager across Eastern Europe, South Africa, Dubai, Egypt and Israel and Western Europe (Benelux and Nordic), she is very used to working in and with different cultures.
"Uniblue is expanding its product portfolio and in parallel its team across all areas of the business,"
said Marieke den Hoed. "I had visited Malta 15 years ago and am happy to have the chance for such a challenge that comes with the reward of living and working in the country. It's a great place to be based, not only the climate but the close proximity of everything means no commute!"
Being in Malta, Marieke hopes to continue with tennis and golf and try out her cooking skills in the local cuisine.
About Uniblue
Uniblue Systems Limited develops products to optimise users' PC performance, the core products being:
SpeedUpMyPC, DriverScanner, MaxiDisk and Powersuite in 13 languages.
Uniblue is privately owned by the Malmberg family and is based on the Mediterranean island of Malta and employs over 100 staff.