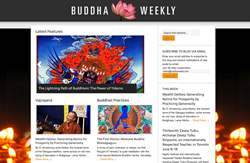 Although we think of Buddhism as non-materialistic, "a lack of money is an obstacle" to practice.
Toronto, Ontario (PRWEB) June 10, 2013
Poverty, lack of time, stress, remote location and other obstacles to daily practice of Buddhism are the focus of this week's special edition of Buddha Weekly. This week the magazine covers the practice of wealth deities—to help overcome the obstacle of poverty. Another major obstacle for some Buddhists is remote location, covered at length in a feature suggesting how to practice as a rural Buddhist.
"Wealth Deities: Generating Karma for Prosperity by Practicing Generosity"
Buddha Weekly reported on a White Mahakala initiation event from Archaya Zasep Tulku Rinpoche at Gaden Choling Mahayana Buddhist Meditation Centre. Rinpoche spoke of wealth deity practice on June 9. One of the great perfections of Buddhist practice is generosity—helping all sentient beings—and Rinpoche made it clear that wealth is a means to help others.
Although we think of Buddhism as non-materialistic, "a lack of money is an obstacle" to practice, Jonathan Ciliberto wrote in a review of "A Shower of Jewels: Deities of Wealth" in Buddhist Art News. Poverty itself can make practice difficult. It is difficult enough to find birth in the precious human realm—our opportunity to practice the Dharma—without adding to suffering with the burden of poverty.
In the east, wealth practice is not frowned upon as it might be in western cultures, Rinpoche explained at the White Mahakala practice at Gaden Choling, and he pointed out that many traditions have similar practices, including Daoism and Hinduism. Read more.
"Empowering the Rural Buddhist: Tips for Remote Practice"
For the rural Buddhist, the path can become very difficult, particularly in Vajrayana traditions where teacher guidance is critical. Rural practitioners, faced with hours of driving or flights just to receive teaching, may find the lack of support enough to make their practice too difficult. It is critical for remote Buddhists to maintain spiritual discipline, even without easy access to a teacher. In this special feature in Buddha Weekly, Sarah Noel gives her tips for daily rural practice, covering topics such as creating sacred space in the home, and finding a virtual Sangha online. Read more.
About Buddha Weekly
Thousands visit Buddha Weekly every week for Buddhist features and news covering all major Buddhist traditions and practices. Started in 2009, the non-sectarian news magazine covers:

Buddhist Practices
Sangha News from all traditions including: Hinayana, Mahayana, Vajrayana
Dharma Features and Discussions
Kindness Practices
Mindfulness
Meditation
Buddhist News
Buddha Weekly is a Zines Online publication.