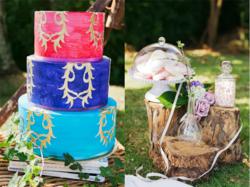 "Social Media Marketing is an essential pillar of the business, not an accessory, use it more often and use it well." Ciaran Connolly, Co-Founder of ProfileTree
London, UK (PRWEB) June 12, 2013
With an artistic flair that is second to none and a passion for 'mixing things', becoming a cake designer and baker was the natural career choice for the owner of Miss Piggy's Cakes .She spoke to ProfileTree about making Creative Cakes for Every Special Occasion.
When it comes to the inspiration behind her baking business, she said "Baking has been in my family for generations, but professional baking came from my Grandfather."
When ProfileTree asked about the advantages of working for herself, she said "The greatest advantage is being the boss and doing and running things how you want to."
One of the biggest achievements according to her is "the relationships I've built nationally and internationally with all the other professionals out there is a really great achievement."
She praises the role of the internet and social media when it comes to the business. She says "If you know how to use it to your advantage, it is the best and cheapest way to spread the word."
Ciaran Connolly, Co-Founder of ProfileTree said "Social Media Marketing is an essential pillar of the business, not an accessory, use it more often and use it well."
Profile Tree's main goal is to help small business owners reach new customers every day with the most innovative online marketing tips and techniques.
About ProfileTree: ProfileTree is a free listing service where self employed and small business owner can create an online marketing profile. From Pencil or Portrait Artist to Self Employed Service Providers - anyone can create a skills profile on ProfileTree for free.
The website also enjoys sharing motivation photos for the self employed, helping with focus and drive. From professional wedding photographers to anyone offering a service - it can be listed online today.