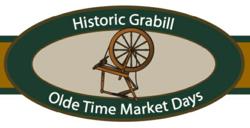 (PRWEB) June 11, 2013
Olde Time Market Days makes its debut at 10:00 a.m., Saturday, June 15. Shoppers will enjoy the old world experience of buying hand-made items, such as fresh baked breads and sweets, cookies and other Heavenly Gems by Catherine, local honey, vintage bags, leather goods, and small furnishings, plus an open-air Flea Market. For the more tech savvy: Apex Wireless and other local cellular services will be available to peddle their latest and greatest cell phones and new deals. Later in the season, hot foods will also be on hand, with some of the areas most popular Food Trucks rolling in, including Affine Foods and Auntie Anne's Pretzels, and Rajin' Cajin (coming in August).
Historic Grabill Olde Time Market Days is the brainchild of area business leaders, with the focus on expanding the local economy, while providing a new venue for both established and up-and-coming start-up businesses. "I think this is a great idea that will draw people to Grabill, and lead them to all the other shops and goings-on here. It will benefit both the citizens and our economy as people come far and wide to attend," according to Grabill Council President, Wilmer Delagrange.
"This new market is the perfect place for home-based vendors, such as myself, to expand our business, while bringing attention to the old world charm of Grabill, Indiana," says Diane Brow, Market Coordinator and owner-operator of her own home-based business, The Crusted Herb.
Vendors will be located in the West parking lot of the State Street Save-a-Lot Grocery Store, extending back to Grabill Country Sales, with expansion into the surrounding fields for the Flea Market. Olde Time Market Days will run each Saturday, from June 15 through September 28, 10:00 a.m. to 3:00 p.m. All vendors, farmers, artisans, crafters, businesses, and flea marketers are welcome! The cost is only $10/space or $125/16-week season. For more information and applications, contact Diane Brow at 260-705-2867 or email GrabillMarketDays(at)gmail(dot)com; Elmer Langacher at 260-615-6751; or Grabill Country Sales 260-627-8330 (ask for Katie or Elmer Jr.).