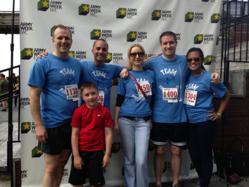 Precision IT commits to hiring returning veterans and we hope to be involved again with events like this in the future.
New York, NY (PRWEB) June 11, 2013
Precision IT sponsored its first non-profit event, Big Apple Run for the Warriors, hosted by Hope for the Warriors, June 8th.
The kick-off event to Army Week NYC, the Big Apple Run attracted the old and young, military and civilian, to welcome home and embrace our nation's wounded warriors. The 2.5 run took place in New York City's financial district, at Wagner Park, and began with an opening ceremony to honor wounded service members. A 50 yard dash also took place for the youth.
"It was inspiring for my son and I to run alongside wounded veterans," said Anthony Butler, Precision IT's VP of Sales, who was a former commander of an infantry in Iraq. "Precision IT commits to hiring returning veterans and we hope to be involved again with events like this in the future."
As a team, Precision employees donated more than $2500 in sponsorship and donation funds to support the event's goal of establishing a long-term understanding and respect for the needs of local military families. Five Precision employees participated in the event as "Team Precision IT" with Nathan Venno and Austin Jimeno earning second place awards in their age category.
Donations to Hope for the Warriors can be made by visiting their homepage at http://www.hopeforthewarriors.org/.
About Precision IT
Recognized as a top 100 managed service provider in the country and 5 years on the Inc., 5,000's list of fastest growing companies, Precision IT continues to provide a wide range of expertly engineered solutions and technology to SMB and enterprise clients. Precision IT Group's internet consulting service portfolio includes managed IT services, project management, cloud hosting, backup and disaster recovery solutions, asset management and procurement services. Precision IT is headquartered in New York with a satellite office in Charlottesville, Virginia.
For more information, visit http://www.precisionit.com.
About Hope for the Warriors
The mission of Hope for the Warriors is to enhance the quality of life for post-9/11 service members, their families, and families of the fallen who have sustained physical and psychological wounds in the line of duty. Hope for the Warriors is dedicated to restoring a sense of self, restoring the family unit, and restoring hope for our service members and our military families.