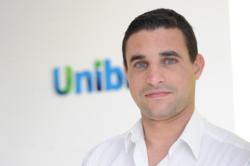 (PRWEB) June 26, 2013
The appointment of Keith N Farrugia as Financial Controller at Uniblue has been announced.
Farrugia studied at the University of Malta where he graduated as an Accountant, he then read for a BSc. in Financial Services awarded by the University of Manchester, as well as having an MSc in Economics from Warwick University. He worked with PWC in the Audit and Assurance unit, which gave him exposure to many industries and teams cross-company. He also held the position of Financial Controller and Strategic Market Analyst with a local group of companies that invested in property development, retail as well as in FMCG industries.
"I was attracted to Uniblue, as the company is known locally to be open for new ideas, and software for me was an interesting industry to get in to since it posed new challenges in a fast-evolving environment. Furthermore, its modern offices and its environmentally conscious reputation also appealed to me," said Farrugia. "I was headhunted for the role that carried a wide range of responsibilities clearly needing to match them with someone who brought a range of technical skills and experience and who could bring the finance function together, which I could offer."
When not working , Keith enjoys woodwork, DIY, designing things for his home and other creative hobbies like video editing.
About Uniblue
Uniblue Systems Limited develops products to optimise users' PC performance, the core products being:
SpeedUpMyPC, DriverScanner, MaxiDisk and Powersuite in 13 languages.
Uniblue is privately owned by the Malmberg family and is based on the Mediterranean island of Malta and employs over 100 staff.
For more information about Uniblue or to see other opportunities within the company, please visit http://www.uniblue.com.