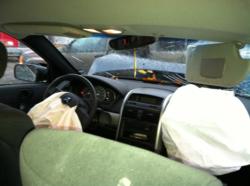 Providence, RI (PRWEB) June 11, 2013
The Bottaro Law Firm is pleased to announce the recent resolution of a 6-year-old boy's personal injury case resulting from a highway car accident.
According to court documents in the May 24, 2013 hearing in Providence Superior Court, C.A. No. PC 13-2169, the parties agreed to settle the boy's case for $300,000.00 as approved by the Court.
According to the Rhode Island State Police Uniform Crash Report, the car accident occurred when another driver attempted an illegal U-turn on I-95 in Providence, Rhode Island. The action caused a severe T-bone collision with a small sedan in which the 6-year-old boy was travelling in a rear child seat. The boy struck his head in the massive collision and was transported by an emergency rescue person to Hasbro Children's Hospital for overnight observation. He was diagnosed with a post-concussive syndrome including traumatic headaches and three lacerations to the forehead requiring sutures.
According to medical records, the boy consulted with a pediatric neurologist. Over time, the concussive symptoms largely subsided. His family also went through mental health providers to address the emotional trauma. Notably, the collision left the boy with three prominent facial scars that were treated by two plastic surgeons.
Rhode Island car accident lawyer Mike Bottaro consulted with the above expert physicians. Mike obtained medico-legal opinions from the two surgeons that the resulting facial scars suffered in the Rhode Island car accident were likely permanent in nature and that the boy would most likely require future revision surgery.
As a result of a structured settlement negotiated by Rhode Island personal injury attorney Mike Bottaro, his client's settlement funds will be protected and will grow in value over time. "It's gratifying to have helped this young boy and to know that out of this horrible collision, he will have his medical expenses covered and some future financial security," said Attorney Bottaro.
About The Bottaro Law Firm
Bottaro Law's Rhode Island personal injury lawyers serve clients throughout Rhode Island and southeastern Massachusetts. The firm's practice areas include general personal injury, car accidents, motorcycle accidents, medical malpractice and more. Injured individuals can request a free consultation by calling 1-866-LAW-9700 or visiting http://www.bottarolaw.com.