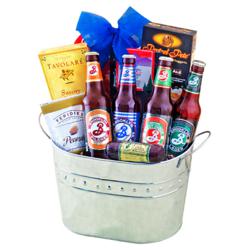 We look forward to Father's Day every year.
Clifton, NJ (PRWEB) June 10, 2013
Father's Day is this Sunday, June 16. But don't panic – winebasket.com has you covered for Dad's big day. The largest gift basket company in the NJ/NY/CT tri-state area is fully stocked with Father's Day wine baskets.
Celebrate Dad with our wide array of fruit baskets, wine baskets, gourmet food baskets, and decorative gift boxes filled with wine, chocolates, truffles, cheeses and more. There is something for every father, in every price range.
Help Dad kick back and relax by sending him a Brooklyn Brewery Beer Basket – the microbrew beer is a selection of four intensely popular craft beers guaranteed to hit the spot.
Or you can go the more traditional route and choose the For You, Dad Wine and Fruit Gift Basket to celebrate Dad - the man of the hour - with fresh fruit, gourmet snacks and a most appropriate bottle of Pinot Noir red wine called Dad's Day Off.
Another good choice is you take one guy - give him one can of Plum Island Soap Co macho skin care products - and you've got the perfect recipe for: The Man Can Spa Gift Set.
"We look forward to Father's Day every year," says Sue Capalbo, Vice President of Capalbo's Gift Baskets, sister company of winebasket.com. "It's our way of saying thanks to the man who made it all possible".
Each of the Father's Day baskets from winebasket.com is created and designed in their 40,000 square foot facility in NJ. Winebasket.com will also personalize your gift message at no additional charge. Even though Father's Day is fast approaching, winebasket.com can still ship gift baskets in time all over the country – or have local New Jersey deliveries made by van.
Customers can order via http://www.winebasket.com, on their desktop or mobile device. The baskets and gifts can also be seen in person at their retail store, Capalbo's Gift Baskets, located at 350 Allwood Road in Clifton, NJ 07012, just across from the Clifton Promenade Mall.
About winebasket.com
Winebasket.com provides fast, fresh and delicious wine & champagne baskets, gourmet fruit & food baskets, spa baskets, gift towers & tins and baby gift baskets to customers nationwide. Every basket is backed by a 100% unconditional satisfaction guarantee. Customer Service Representatives, all friendly and knowledgeable, are available to assist from 9:00am to 6:00pm weekdays by phone at (800) 691-0059 or via live online chat. Visit their sister sites, Capalbo's Gift Baskets for fruit baskets, fruit and cheese, or gourmet food arrangements, and babybasket.com, for all those newborn baby gift needs.