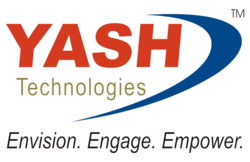 Woburn, MA (PRWEB) June 11, 2013
YASH Technologies, a leading technology services and outsourcing partner for global companies, announced today the launch of its PlasticsOne solution, an extension of ChemOne, YASH's qualified SAP Business All-in-One partner solution for the chemical industry. Based on chemical industry best practices, PlasticsOne is a preconfigured, out-of-the box solution that allows plastics manufacturers to improve business performance utilizing the following key features: sales (quotation costing, contract estimation); design (bill of material, CAD/CAM integration); manufacturing (machine scheduling, batch and serial management); and procurement (vendor evaluation, procurement of input materials). A full list of functionality can be found at http://www.yash.com/plasticsone.
Designed for rapid implementation utilizing YASH's S-Imple (Streamlined Implementations) methodology, PlasticsOne includes preconfigured business scenarios that help get businesses up and running fast, within a matter of weeks. PlasticsOne helps decision makers optimize operational functions through more efficient technology, supporting key business processes and also integrating with third-party systems such as ADP Payroll, Salesforce, and Kronos. Besides being a rapidly deployed solution, customers benefit from the following:

Flexible and scalable architecture for business processes, built on the proven SAP NetWeaver® technology platform
An ERP solution that can be extended with pre-integrated customer relationship management (CRM) and business intelligence (BI) functionality
Intuitive interface and role-based navigation to improve overall user productivity and adoption
SAP best practices, saving implementation time and costs
"Price and margin pressures for plastics manufacturers create a need to maximize yields and minimize off-spec and variability," said Jacinto Arauz, vice president of sales for YASH's reseller division. "PlasticsOne is an innovative, yet affordable solution that addresses this and a host of other challenges specific to this industry."
Qualified SAP Business All-in-One partner solutions like ChemOne are preconfigured industry-specific versions of the SAP ERP application combined with SAP Best Practices offerings, enabling streamlined operations, lower costs and a proven path to growth. ChemOne and PlasticsOne enable midsized companies to use a variant configurator to meet customer-specific requirements, optimize asset operations and maintenance, and deliver pricing at the sales quotation level. It delivers a comprehensive set of business functionalities with little or no customization required. This means minimal disruption to daily operations during installation, and maximum return on investment.
Other industry solutions include PeopleOne, ManufacturingOne, ChemOne, TechOne, WholesaleOne, CPGOne, ServicesOne and FinancialsOne.
YASH is a 2012 SAP Pinnacle award recipient, a recipient of the SAP APJ Partner Excellence award 2013: Top Partner for SAP Business All-in-One, and is also a member of SAP's 2013 North American Value Added Reseller Partner Advisory Council.
For more information, please visit http://www.yash.com/aio or email info(at)yash(dot)com.
About YASH Technologies
YASH Technologies focuses on customer success. As a leading technology services and outsourcing partner for medium and large global customers, we leverage technology and our flexible delivery models to drive performance and business value throughout a customer's enterprise. YASH's comprehensive service approach incorporates a holistic view of our customers that extends beyond delivery. This approach integrates enterprise solutions and services, proprietary best practice offerings, strategic application and maintenance outsourcing, as well as consulting and integration services. YASH is a SEI CMMI (Level 3) and an ISO 9001:2008 certified company with U.S. and India headquarters and regional sales and development offices spread across five continents.
SAP, SAP NetWeaver and all SAP logos are trademarks or registered trademarks of SAP AG in Germany and in several other countries.