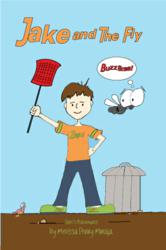 Jake and the Fly, the first book in the Wunderkind Family series, was written with the family in mind.
Matthews, NC (PRWEB) June 11, 2013
Melissa Perry Moraja, CEO of Melissa Productions, announces her first monthly children's book giveaway. As a celebration of her fans and readers, she will hold a giveaway every month in 2013. The giveaways will offer winners copies of Melissa Productions children's books. The contests will be held on websites like Goodreads and Not Your Ordinary Psychic Mom blog.
"My goal is to introduce new readers to my humorous, children's stories and characters and create a following of fans," said Melissa. "I have seven children's books published today, which make-up two of my brands—Splatter and Friends and the Wunderkind Family. All of my stories were written and illustrated with the help of my three elementary aged children, who are also the main characters in the Wunderkind Family series. In fact, the Wunderkind Family is a fictional representation of my family's humorous life, sharing real life adventures and crazy imaginative moments."
This month Melissa is offering a free copy of Jake and the Fly, which is the first modern-fantasy children's chapter book in the Wunderkind Family series. The Wunderkind's are an extraordinary gifted family, and Jake, the oldest son, is the scifi-inventive genius. He can make a thingamajig out of anything. The only hang-up is all the rules he has to follow.
To enter readers need to connect with Melissa on her website, Facebook, Twitter, Not Your Ordinary Psychic Mom blog or Goodreads. A new giveaway will be listed the first of every month and the winner will be announced the first week of the following month.
About Melissa Productions, Inc.: Melissa Perry Moraja is an entrepreneurial mom, a multifaceted business woman and a creative producer, authoring and illustrating numerous children's stories and self-help books. Founded in 2009, Melissa Production's mission is to offer humorous, inspirational products and services that promote self-awareness, creative learning, and leadership with the family in mind. With popular story book characters like Jake Wunderkind, she speaks to children's hearts through humorous adventures and parents thoughts by providing educational stories. For more information, please visit http://www.melissaproductions.com.
Contact:
Melissa Perry Moraja
Founder and CEO, Melissa Productions, Inc.
704-246-7304
melissa(at)melissaproductions(dot)com